"What Are You Doing!?"- Referee Berates UFC Fighter For Multiple Illegal Strikes at UFC 251
Published 07/11/2020, 9:37 PM EDT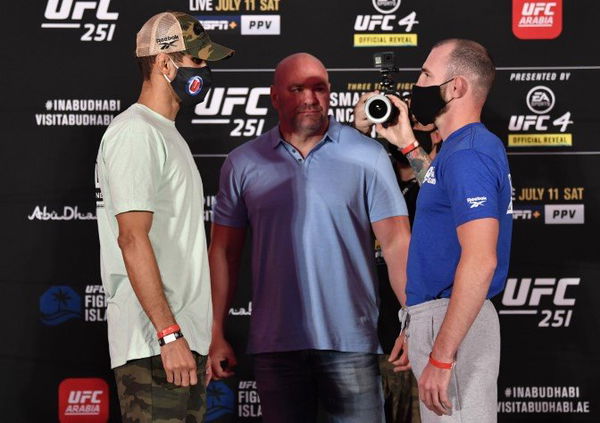 Fight Island is underway with the early preliminary card part of the history books. All fights on that card went the distance. The trend continued in the first preliminary card contest between Leonardo Santos and Roman Bogatov as well. However, in addition to the fights reaching the final round, another unfortunate trend too continued. Low blows and a host of illegal strikes took center stage yet again at UFC 251
Read: "Broke My Jaw in the First Round" – Davey Grant Details Massive KO at UFC 25
Illegal Strikes Marr UFC 251 fight
ADVERTISEMENT
Article continues below this ad
In the 2nd round of the Lightweight preliminary card contest, Bogatov had Santos pinned to the cage. In attempting to hit a knee to his midsection, the Russian fighter misfired. He connected just below the belt as 'Lamparao' doubled over in pain. This resulted in a temporary stoppage. Earlier in the fight, he even landed an eye poke. 
Later in round 3, with just under a minute left, the 29-year-old hit Santos with a knee to his neck whilst he was on his knees. The referee Marc Goddard seemed perplexed as he pulled the fighter away and asked him, "What are you doing!?"  
Following yet another stoppage, Santos insisted that he could go on. As the fight continued the audience learned that the referee in charge slapped the Russian Lightweight fighter with a 2-point penalty. This virtually sealed the fight result with the final few seconds turning into a formality unless Bogatov could somehow muster up a sensational KO. 
As expected, Santos emerged as the winner. He claimed the W via unanimous decision and extended his unbeaten UFC streak to 8. Furthermore, the Brazilian is riding a 6-fight win streak in the division and will be looking to claim a ranking spot soon as he has the 3rd longest active streak in the division. Currently, the fighter is behind, Khabib Nurmagomedov (11) and Charles Oliveira (7)
ADVERTISEMENT
Article continues below this ad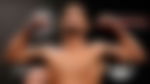 Meanwhile, Bogatov lost his first professional fight which snapped his streak of 5 on the bounce. The fight was his maiden appearance in the UFC. He will hope to erase memories of this quickly, learn from it, and bounce back. 
UFC Fighter Angela Hill commented on the fighter's 3 illegal blows. She wrote, "Bogatov got the trifecta of illegal blows! Eye poke, groin shot, and a knee to the head of a grounded opponent."
ADVERTISEMENT
Article continues below this ad
Bogatov got the trifecta of illegal blows! Eye poke, groin shot and a knee to the head of a grounded opponent. #UFC251

— Angela Hill (@AngieOverkill) July 12, 2020