"I Don't Even Want to Talk About This S–t" – Khabib Nurmagomedov Not Happy With Conor McGregor Questions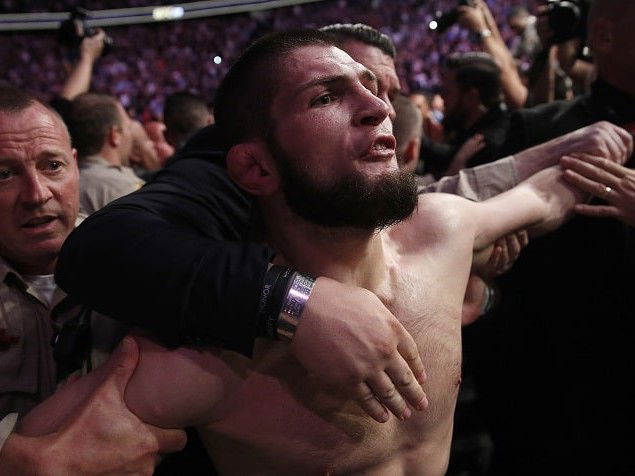 As UFC 254 draws closer, Khabib Nurmagomedov is zoning in on his next challenge. With such big fights comes the added responsibility of interacting with the media. However, Khabib isn't the one to hold back his thoughts, irrespective of the platform he is talking on.
The UFC lightweight kingpin appeared on ESPN's First Take. He touched upon several topics, including his plans if he gets past Justin Gaethje. After the title fight this weekend, the next big fight among lightweight contenders might happen in January.
That is the proposed timeline for a fight between Dustin Poirier and Conor McGregor. The winner of the fight should be the next No. 1 contender for a title shot. However, Khabib has already defeated both these in his previous couple of outings. Therefore, a rematch with either of them doesn't excite him at all.
"Right now, I don't even want to talk about this s—."@TeamKhabib is focused on fighting Justin Gaethje at #UFC254 and nobody else 😶 (via @FirstTake) pic.twitter.com/XGzJFUanl3

— ESPN MMA (@espnmma) October 20, 2020
"I am not interested in both of these guys because I need something new. New blood, new energy. Justin Gaethje give me new motivation. He is the real deal. Right now he is interim champ. He is very tough guy. If I think about both Dustin and Conor, they don't give me good motivation and good energy," Khabib said on First Take.
"I already finished them" – Khabib Nurmagomedov dismisses Conor McGregor
It was a plan of Khabib and his late father, Abdulmanap Nurmagomedov, for Khabib to retire at 30-0. If he defeats Gaethje this weekend, that would take up his record to 29-0. Therefore, 'The Eagle' will want his last dance to be a legacy fight. Unfortunately for Conor and Dustin, they don't make the cut for the same.
"Fight for what? My legacy? I already put these guys on my desk. I already beat them. Everything finished with these guys. I need someone new," he added.
Regardless of what Khabib thinks, his rematch with Conor has the potential to be one of the biggest fights of his career. The only other fight in the same ballpark is a fight with Georges St-Pierre. When Stephen A. Smith wanted a response from Khabib regarding the rematch with McGregor, it ticked the champ off.
"Right now, I don't even want to talk about this s–t," a seemingly frustrated Khabib replied.
The future for Khabib Nurmagomedov is one of the popular issues right now, with multiple stakeholders weighing in on the issue. However, we shouldn't forget that he still has a massive challenge to conquer come Saturday in the form of Justin Gaethje.
Read More:  Khabib Nurmagomedov Reveals One Condition on Which He Will Fight Conor McGregor
Continue the conversation on the app, join other MMA fans on MMA Fans App