'I Don't Necessarily Think It's a Rich Thing'- Joe Rogan Breaks Down Conor McGregor's TKO Loss to Dustin Poirier
Published 02/25/2021, 7:15 AM EST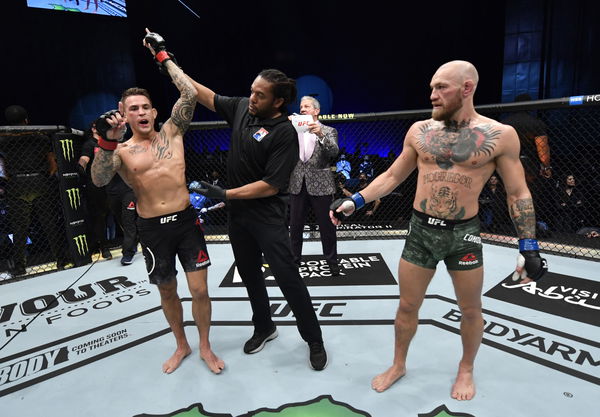 ---
---
Joe Rogan spoke to UFC middleweight Kevin Holland in one of his podcast episodes and discussed UFC 257. Chiefly, the aforementioned event opened out in 2021 and witnessed the return of Conor McGregor to the big stage. 'The Notorious' faced off against Dustin Poirier in the highly anticipated main event to determine who is next in line.
ADVERTISEMENT
Article continues below this ad
McGregor came out strong, however, Dustin Poirier managed to pull things in with effective game planning. It was a good measure of well-placed calf kicks that slowed down McGregor and went on to immobilize him completely. The Irishman was unable to effectively defend himself and eventually fell to strikes in round 2.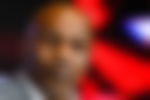 ADVERTISEMENT
Article continues below this ad
Joe Rogan chimes in on Conor McGregor vs Poirier 2
Rogan who is a life-long martial artist has always been able to decipher the potency of certain techniques in the realm of MMA. Poirier's implementation of limb destruction against Conor McGregor certainly caught his attention. Additionally, he also commented on McGregor's mindset and devotion to the fight game after becoming a multi-millionaire fighter.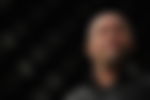 "There's moments in that fight [UFC 257] where he was having big success. He hurt Dustin at one point in time with a big left hand, but that fu**ing low calf kick. That low calf kick is a beast."
"He was still pretty fu*ing rich when he fought Eddie Alvarez, he was already a multi-millionaire. I don't necessarily think it's a rich thing. I don't know if that affects him that much, but I do think it's inactivity and do I think Dustin got a lot better."
Rogan on Dustin Poirier's viability at lightweight
Rogan made sure to point out that 'The Diamond' himself had come a long way since his early fighting days. At 155-pounds, Poirier has looked virtually unstoppable against all tiers of competition. Furthermore, his implementation of leg kicks to negate McGregor's striking prowess was truly a thing of beauty.
 "At 145, Dustin was depleted and diminished. At 155 he's fu*ing huge, he doesn't even look like a 55'er he looks like a 70'ers…The thing is he's [McGregor] is heavy on that front leg, wide karate stance and he's always doing this. When that leg is available for the low calf kick that changes everything, changes your whole approach, and Conor is also a guy never been known to switch back and forth.
ADVERTISEMENT
Article continues below this ad
He doesn't like to have left leg forward, that's not a common thing for him. Once his leg is getting chewed up, it's not like he can fight just as good from orthodox."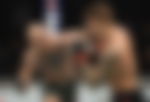 Conor McGregor will have to head out to the drawing board and find a way to combat the leg kick technique. His future opponents will certainly try to put together a similar offense in the hope to replicate Dustin Poirier's results. However, McGregor has shown an ability to constantly make major improvements to his arsenal.
ADVERTISEMENT
Article continues below this ad
Can McGregor prove his doubters wrong in his next fight?