John Kavanagh Believes that Dustin Poirier Cannot Erase the First TKO loss to Conor McGregor
Published 12/28/2020, 12:30 PM EST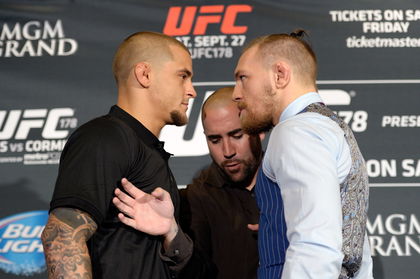 ---
---
SBG Ireland's John Kavanagh spoke to Oscar Willis and had plenty to say about an upcoming bout at UFC 257. Conor McGregor's coach did a deep dive into his star pupil's match-up against Dustin Poirier that kicks off the PPV calendar. The bout is a rematch from their iconic encounter all the way back in September 2014.
ADVERTISEMENT
Article continues below this ad
UFC 178 was a defining night for McGregor as he established himself with a win over Poirier. What's more, he earned the TKO in the very first round and became the first man to stop 'The Diamond' by strikes. Since then, both men have significantly evolved their game. However, the loss remains a stain on Dustin's legacy.
John Kavanagh heaps praise on Dustin 'The Diamond'
ADVERTISEMENT
Article continues below this ad
McGregor's Coach was quick to pile on adoration for Dustin Poirier's evolution and growth as a fighter. When looking back at their first match, Kavanagh explored the avenues wherein Poirier made the most improvement. It's clear that the McGregor camp expects a harder fight.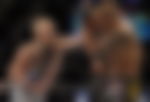 "I think he's definitely gotten better. There's a few more takedown attempts in his fights. I hadn't seen it before, he has a good guillotine, we can see that. Then his volume and his conditioning is looking on point. You can see in his fights he has an ability to take a lot of punishment and still come forward, pick any of his last fights to see that quality."
Kavanagh claims Poirier will be fighting a different animal
Chiefly, despite the praise, John Kavanagh refused to concede that Poirier would be able to offer resistance to McGregor. From Kavanagh's standpoint, Conor McGregor mentally broke Dustin Poirier in their first outing.
"However, he's fighting a different animal than any of those guys. Someone with true one punch Knockout power that he's already felt. I think you could spend a lifetime going to sports psychologists and talking to this person and that person, that's not going to be erased from his mind."
ADVERTISEMENT
Article continues below this ad
"He knows that he's facing somebody that can shut off his lights very very rapidly, and now is a lot more powerful and a lot more experienced than he was even then."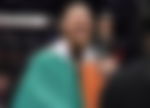 "So it's a tough uphill battle for Dustin, but Dustin is a phenomenal fighter, great fighter and I know they've got him and Conor certain agreements on charity things outside which is great. I think that's what professional sports should be about, anyway. But yeah, I'm really looking forward to this one."
ADVERTISEMENT
Article continues below this ad
It remains to be seen whether mental warfare will factor in once more several years later. Despite the fact that the fighters are changed men, the consensus is that McGregor still possesses the upper hand.