'You're a Cheater Too Bi**h- TJ Dillashaw Trolls Petr Yan and Aljamain Sterling for 'Oscar' Performance
Published 03/07/2021, 10:35 PM EST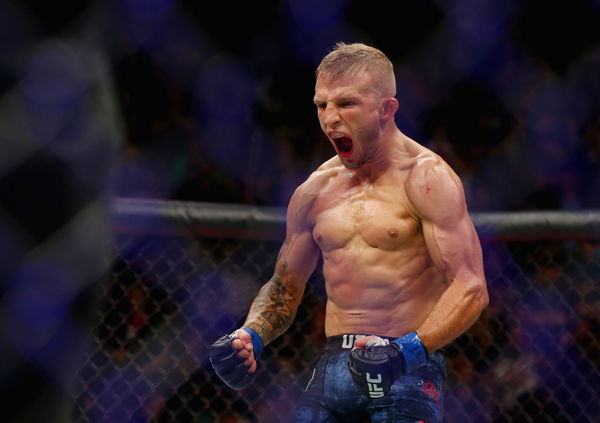 ---
---
Former UFC bantamweight champion, TJ Dillashaw, took to social media and commented on UFC 259's highly anticipated bantamweight title fight. Aljamain Sterling became the new undisputed champion after Petr Yan was DQ'ed following an intentionally illegal knee. The disqualification came off the back of a 'knee to a downed opponent' and appeared to concuss Sterling.
ADVERTISEMENT
Article continues below this ad
Referee Mark Smith was forced to wave off the fight after coming to the conclusion that 'The Funkmaster' couldn't continue. Chiefly, this went down as the first time in UFC history that a title changed hands off a disqualification. The entire MMA community was chirping about the aforementioned incident online, and Dillashaw had plenty on his mind.
And the Oscar goes to @FakeMaster for Best Actor in a Title Fight and Petr Yan needs a crash course in the rules of the sport he was once champion in. Hey Petr now you're a cheater too, bitch.

— TJ Dillashaw (@TJDillashaw) March 7, 2021
ADVERTISEMENT
Article continues below this ad
Some called into question the severity of the injury sustained by Sterling, Dillashaw being one of them. However, there was no doubt about the flagrancy of the foul. Yan, who was briefed about the rules extensively caught everyone off guard. Furthermore, both Yan and Sterling released a post-fight statement, and Sterling's statement included a tirade against TJ Dillashaw.
You cheated your entire UFC career and you have the balls to call someone an actor? You lost your manhood when you decided to inject yourself so that you actually compete.
I hope Sandhagen tools like he did to you in practices before. https://t.co/D9CWOcsc5e

— Aljamain Sterling (@funkmasterMMA) March 7, 2021
TJ Dillashaw: What's next for the former champion?
The logical course of action for UFC 259's bantamweight title duo will be an immediate rematch of quick order. The UFC as well as the fighters are looking to get back into action and get the ball rolling. There was plenty of takeaways from the first fight, especially when looking at the compelling back-and-forth stylistic action.
ADVERTISEMENT
Article continues below this ad
As for TJ Dillashaw, he's been actively seeking a title fight to mark his return to MMA competition. He's been eligible to compete in the UFC since mid-January, however, he's still not got a fight booked. It seems as though every high-level bantamweight on the roster has but one name on their mind to scrap- TJ Dillashaw.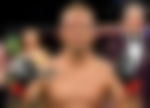 He's certainly not short on options, however, facing Cory Sandhagen is the route that will be likely taken. 'The Sandman' has been uber impressive since his RNC loss to Aljamain Sterling and he's been able to make his way to a title eliminator. Facing Dillashaw will help in bolstering his profile in a massive way, especially when looking at the fan interest.
ADVERTISEMENT
Article continues below this ad