Can Stipe Miocic Take Over UFC Legend Randy Couture in All-Time UFC Heavyweight Title Fight Wins at UFC 260
Published 03/25/2021, 9:39 AM EDT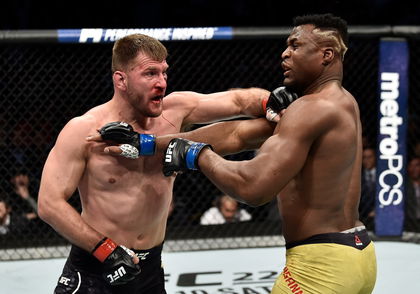 ---
---
Stipe Miocic is on the cusp of UFC glory as he's merely one win away from a UFC record. The Croatian-American champion will go to battle at the main event for UFC 260 and defend his belt against Francis Ngannou. Both men squared off once before back in 2018 and Miocic came away with the unanimous decision victory.
ADVERTISEMENT
Article continues below this ad
When Stipe Miocic fought Francis Ngannou the first time, he set the record for the most title defenses of any heavyweight champion. Over three years later, he now contends for a record against the same opponent. Chiefly, Miocic is looking to become the first heavyweight champion to 7 title fight victories, beating out Randy Couture.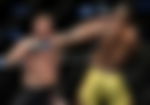 Miocic is tied with 'The Natural' at 6 heavyweight title fight wins since the belt was introduced at UFC Japan in 1997. Defeating Ngannou will not only cement Miocic in modern MMA, but will also solidify him in the history books. The UFC's heavyweight division has seen prestigious champions and beating out Randy Couture is no mean feat.
ADVERTISEMENT
Article continues below this ad
UFC 260: Stipe Miocic vs Francis Ngannou- An Overview
Stipe Miocic is on a two-fight win streak as he beat Daniel Cormier in his last two fights to claim heavyweight GOAT status. However, his trilogy saga with Cormier left the division in limbo for a meaningful period. However, Miocic has greatly benefitted from his trilogy with 'DC' and has improved in several facets of his game.
ADVERTISEMENT
Article continues below this ad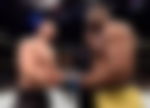 Francis Ngannou bounced back from his loss to Miocic and then Derrick Lewis with four-straight KO wins. Moreover, his finishes have all come in the very first round with an average fight time of 40 seconds. 'The Predator' has violently dispatched off several marquee former champions and new contenders in his ascent to the top.
The aforementioned fight has all-time makings of a classic, especially when looking at the volatility that Ngannou brings. Stipe Miocic has shown time-and-time again that counting him out only serves as a slap in the face to oddsmakers. UFC fans across the globe are excited to see the two juggernauts collide under the bright lights of the cage.
ADVERTISEMENT
Article continues below this ad