'I Don't Give a F**k About You'- Dana White Goes on an Epic Rant Slamming Triller and Oscar De La Hoya
Published 05/16/2021, 6:30 AM EDT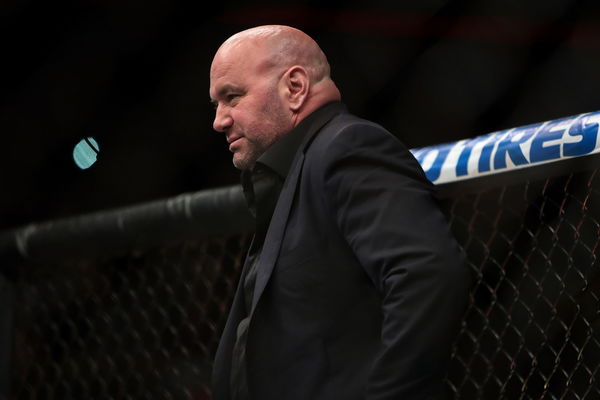 ---
---
UFC President Dana White spoke to the media following the events of UFC 262 that produced some memorable moments. There are several storylines that will arise from UFC 262 including, but not limited, to the crowing of a new lightweight champion. Additionally, 'Jacare' Souza was tapped out for the first time in his MMA career on Saturday night.
ADVERTISEMENT
Article continues below this ad
While reflecting on the key storylines, Dana White couldn't help but dig into a new and emerging avenue in combat sports. Chiefly, White blasted Triller Fight Club and Oscar De La Hoya when has was asked about their position. It's clear that the mere mention of certain individuals gets a rather explosive reaction from the UFC President.
ADVERTISEMENT
Article continues below this ad
The UFC President fires artillery shells at his adversaries
The long-time boss of the organization was asked about certain claims made by Triller and Oscar De La Hoya recently. Both parties came out and poked at White, claiming that he played a role in blocking out certain fights. Dana White didn't take long to catapult himself into a classic rant that the fans have come to expect.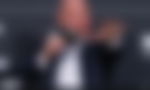 "Don't even ask me about these idiots. Who gives a sh*t? Does anybody give a sh*t? You think I care what Triller thinks? I don't even take their calls. This idiot calls me every day. Texts me every day. 'Please answer my call, please talk to me. Why won't you talk to me?' Cause I don't give a fu*k about you, do your thing. Leave me alone, go fu*king do whatever it is you're doing, knock yourself out, I could care less."
Dana White vs Oscar De La Hoya: The never-ending saga
ADVERTISEMENT
Article continues below this ad
White questioned the intentions of both Triller Fight Club and Oscar De La Hoya. He took umbrage to De La Hoya's notion that he would provide fighters with the biggest paychecks of their careers.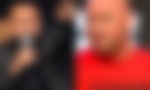 "I have no interest in talking to any of those idiots. They can do their thing. Stop talking about me. What do you give a sh*t what I'm doing…Are you starting an MMA organization? And then you got Oscar, this fu*king idiot in the car that night 'Come with us and make more money than you've ever made in your life'. We heard that before. Chuck Liddell is here tonight, grab him, ask him if he made money than he made his whole life when he went with Oscar De La Hoya"
ADVERTISEMENT
Article continues below this ad
Dana White's contention with Oscar De La Hoya doesn't seem like it's going away anytime soon. Moreover, it's clear that the UFC President isn't overly keen on the promotional model that Triller is running. Time will be the best sign to see how things develop between the parties involved. What did you make of the UFC President's comments?