Edson Barboza Provides Candid Reaction After Earning a Delayed KO Over Shane Burgos at UFC 262
Published 05/17/2021, 6:30 AM EDT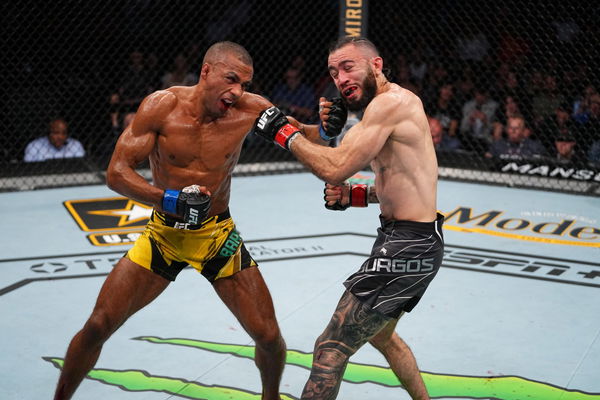 ---
---
UFC featherweight Edson Barboza spoke out to the media following his main card opening win against Shane Burgos at UFC 262. Both men went to war to open out the show and earned $75,000 each as performance bonuses. The fight, which lived up to expectations in more ways than one, had one of the most bizarre finishing sequences ever seen.
ADVERTISEMENT
Article continues below this ad
The fight was a barn burner that went into the third round, with Barboza, who fired the heavy shots, getting the better of the close-range exchanges. However, 'Hurricane' Shane was clinical in his own right. Despite Burgos' efforts, Barboza landed a fight finish combination that brought the fight to a close at 3:16 of round three.
ADVERTISEMENT
Article continues below this ad
Chiefly, Burgos seemed to absorb the strike in a coherent manner. However, a few seconds after being hit, he stumbled backward. Shane Burgos kept stumbling until he hit the cage and surprisingly slumped over and appeared unconscious. Edson Barboza rushed in to land some follow-up strikes and the referee pulled him off.
Edson Barboza vs Shane Burgos: Rarities in MMA
Barboza, who commented on his 'Fight of the Night' performance against Burgos, couldn't help but express a sense of surprise. A KO off a delayed reaction isn't uncommon with a liver shot, however, is rarely seen in head strikes. The display serves as a testament to Barboza's power as a former lightweight who moved down to featherweight.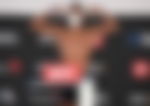 "I'm a Muay Thai fighter man, I always kill myself every fight, a couple stitches on my eye, my mouth, and my shin but part of the job, not too bad."
ADVERTISEMENT
Article continues below this ad
"For real, I really don't understand. I know I connected a really good shot because I feel but I start to feel him shake and little bit like something happened and he go down. I was like 'Okay, let's go finish it' but I need to watch cause I really don't know what happened. I really don't know what shot connected."
Barboza, who is now 2-1 as a 145-pounder, is putting things together in a rather cohesive manner. Furthermore, many fans believe he won his first outing against Dan Ige and should be 3-0. He's evidently ingrained himself into the fabric of the weight class and sparked a resurgence after his lightweight skid.
ADVERTISEMENT
Article continues below this ad