A Look at Michel Pereira's Unique Fighting Style
Published 06/27/2021, 1:51 PM EDT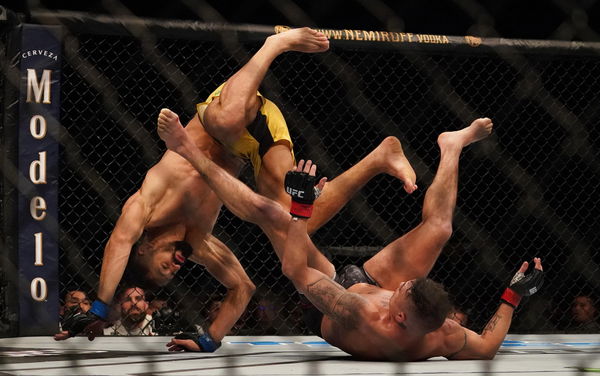 ---
---
UFC welterweight Michel Pereira takes on Niko Price on the preliminary card for UFC 264 that takes place in Vegas. Pereira is a must-watch actions fighter and fans tune in every time he decides to lace up the gloves. The high-flying Brazilian has got a reputation for bringing chaotic energy into his fights and he always delivers action.
ADVERTISEMENT
Article continues below this ad
Pereira's unique style of fighting is influenced by a popular form of Brazilian stand-up called Capoeira. The artistic technique plays well with lucid fighters who fight based on their instincts. The history of this Afro-Brazilian fighting style finds its origin when Portuguese colonization was underway in South America.
ADVERTISEMENT
Article continues below this ad
Michel Pereira: You never know what's next
Pereira showcased his lucid capoeira in his UFC debut against Danny Roberts and showed fans what he's made off. He landed a picturesque flying knee that had Robert in all sorts of trouble right from the get-go. Fans got a flavor of Pereira's violence early on and he's only gotten more inventive with his striking from there.
Michel Pereira integrates somersaults as part of his kicking arsenal and uses the cage as a ramp when searching for his target. He's attempted Anthony Pettis's 'Showtime Kick' and has come particularly close to being successful. Not to mention the time he did a backflip over his grounded opponent and shocked everyone in attendance.
From backflips to break dancing in the cage, there's virtually nothing that Michel Pereira hasn't done already. His electrifying style coupled with a chaotic output pattern leaves his opponents scratching their heads. Not to mention, Pereira doesn't hesitate about pulling the same high-flying moves on all his opponents, regardless of their credentials.
ADVERTISEMENT
Article continues below this ad
Fans will be keen to see how Niko Price will react when he's standing in front of arguably the most unpredictable UFC fighter. However, it would be unwise to overlook Pereira's genuine potential and skill set on the basis of his in-cage antics. Opponents are sadly mistaken about the real threat he poses and he has the ability to lull his adversaries into a fall sense of security.
Read this story: UFC Champions Who Never Successfully Defended Their Belts
ADVERTISEMENT
Article continues below this ad