'Conor Never Switches Stances'- Joe Rogan Unsure of Conor McGregor Winning Against Dustin Poirier
Published 07/01/2021, 7:58 AM EDT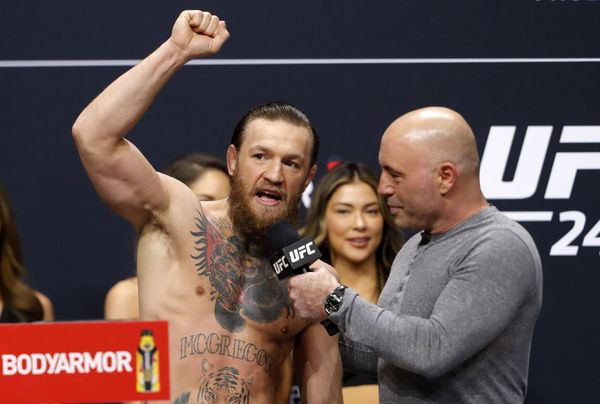 ---
---
UFC commentator, Joe Rogan, spoke to Leon Edwards back in March and shared his views on UFC 264's main event. Rogan has seen it all in fight sports, and he's particularly hyped to watch Dustin Poirier and Conor McGregor duke it out. The trilogy fight that goes down on July 10 in Las Vegas will be the culmination of a rivalry that spans 7 years.
ADVERTISEMENT
Article continues below this ad
Both fighters have one victory apiece and both have managed to secure one TKO finish under their belts, respectively. The rubber match will go a long way in deciding the kingpin at lightweight going forward. Not to mention, a title shot likely awaits the winner of Poirier vs McGregor 3
Also Read: When and Where to Watch the Live Press Conference for UFC 264?
ADVERTISEMENT
Article continues below this ad
Joe Rogan breaks down Poirier vs McGregor 3
Rogan put on his analyst hat when diving into the aforementioned scrap that has legacy riddled implications for the division. While Joe Rogan believes McGregor will change for the trilogy, he doesn't believe they will be enough. Dustin Poirier is coming off the momentum of being the first man to stop McGregor via strikes in MMA.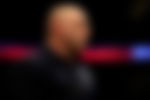 "It so strange to see like the Dustin Poirier fight, the first fight with Conor, then the second fight with Conor, how different it was. Just kicking the calf, shut him down. Conor has that southpaw stance, heavy on the front leg, puts a lot of weight down there…It's going to be hard to figure out because Conor did hurt him, he did rock him [in the second fight]. Dustin admitted it. He said in the first round he rang his bell."
ADVERTISEMENT
Article continues below this ad
"Ultimately Dustin won, so you got to think he can win again. Conor never switches stances, either. It's very rare. He doesn't box. His power hand is for sure his left hand… I'm sure he [Conor] will make an adjustment."
Rogan's take on the fight is similar to that of many fans and MMA pundits in the community. Conor McGregor will have to do a major overhaul to his stance if he is to mitigate the damage of Poirier's leg attacks. However, McGregor's power in the early portion of the fight gives him a strong chance to defeat virtually anyone in his weight class.
ADVERTISEMENT
Article continues below this ad
Read this story: List of UFC Fighters Who Are Married to Each Other