VIDEO: The Evolution of Conor McGregor's Kicking Game Through his UFC Career
Published 06/28/2021, 10:34 AM EDT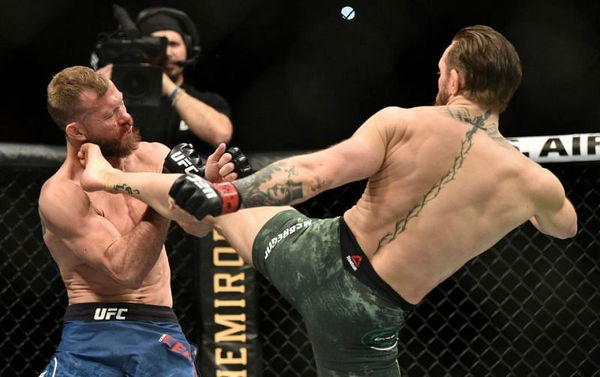 ---
---
Conor McGregor is known to have a Semtex laden cannon of a left hand, however, it isn't his only weapon. McGregor rose to the highest heights of the UFC by incorporating a variety of striking skills, including leg strikes. McGregor is one of the most complete stand-up fighters and he's all set to showcase his skills at UFC 264.
ADVERTISEMENT
Article continues below this ad
Many MMA pundits believe that McGregor's path to victory against Poirier will come by integrating a strong toolkit of kicks. McGregor sets up his punches off his kicks for the most part and many opponents have fallen for his ploys. During his come-up in the UFC as a featherweight, his kicking game was truly considered second to none.
ADVERTISEMENT
Article continues below this ad
It's clear as day that 'Notorious' has somewhat moved on his capoeira-heavy style that was rooted in kicks. Ever since boxing Floyd Mayweather in 2017, the general consensus is that Conor McGregor fell in love with his hands. However, in order to be successful against Poirier, Conor McGregor will have to dive into the toolbox of his trusty old tricks and maneuvers.
The early days of McGregor's rise also saw him flaunt his wide stance with capoeira kicks on television. On an appearance on Conan O'Brien's show, Conor McGregor entertained the audience with his showmanship.
Also Read: All You Need to Know About Sean O'Malley Tattoos
Conor McGregor: Defense is the best offense
ADVERTISEMENT
Article continues below this ad
McGregor's undoing in his second fight against Poirier came down to the fact that he didn't effectively defend leg kicks. Poirier resorted to limb destruction, and Conor McGregor had no answer for his offense. However, it seemed as though he realized the error in his ways as he began extensive training in kicking defense after his last loss.
It's going to be critical that McGregor stops Poirier's leg attacks as it is the catalyst that allows Poirier to strike. Not to mention, McGregor will have to correct his stance to some capacity if he is to be successful in the trilogy fight. There's a lot on the line at UFC 264 and fans can count on the fact that the Irishman will come ready for war.
ADVERTISEMENT
Article continues below this ad
Read this story: 5 Interesting Facts You Need to Know About Jairzinho Rozenstruik