Cris Cyborg Sends a Strong Message as Ronda Rousey's Former Opponent & Fellow Olympian Sara McMann Signs a Multiple Fight Contract With Bellator
Published 12/29/2022, 3:21 AM EST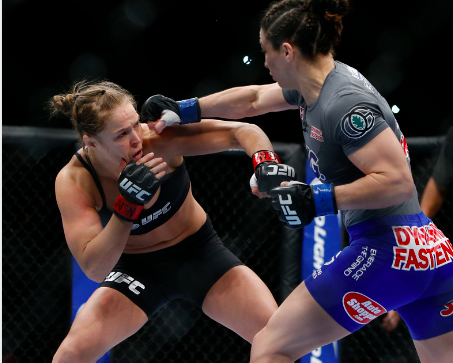 The woman's Featherweight division in Bellator just go hotter. Ariel Helwani broke the news about the former Olympic Silver Medalist signing a deal with Bellator. Sara McMann was a UFC title contender once. She has now penned a multiple-fight deal for the 145 lbs division. The deal comes on the heels of Ukrainian fighter Kateryna Shakalova moving to Bellator. It's noteworthy that the only MMA fighter on the planet to have won the MMA grand slam is already ruling the FW division in Bellator. The arrival of new challengers has only heated things up.
Sara McMann, the Olympic silver medalist and former UFC title contender, has signed a new exclusive, multi-fight contract with Bellator, per sources.

She will compete in their 145-pound division. Debut date and opponent TBA.

— Ariel Helwani (@arielhelwani) December 27, 2022
ADVERTISEMENT
Article continues below this ad
Cris Cyborg has sent a strong message to the new signee. Cyborg expressed her excitement to return to the fight game after learning about the new entrants. Cyborg replied to a tweet from Ariel Helwani tagging Sara McMann and Bellator MMA. Sara McMann is not someone Cyborg will take casually. The former has medals from the Olympics, world championships, and world cups.
Fans react to Sara McMann's entry into Bellator
Excitement gripped fans as soon as the news of McMann joining Bellator broke. Reacting to the news a fan tweeted, "So glad to see @Sara_McMann returning!"
A McMann fan thought it was a fantastic move.
Another fan expects the fighter to dominate the division.
Wow… she had all the makings of UFC champ but couldn't put a run together for whatever reason, I expect her to dominate over there. Her and Cyborg is very intriguing. https://t.co/zwkQBtZ2VW

— . (@Avid_MMA_Fan) December 28, 2022
Some fans felt it was a better idea to move to Bellator over UFC after the new signings.
The fan tweeted, "Let's go I'm Bellator over UFC all day"
While fans were letting their views out, Cris Cyborg also sent hints about her comeback. She tweeted, "Silver Medalist. UFC Title Contender. @Sara_McMann and the Ukraine's Kateryna Shakalova are two serious contenders added to the @BellatorMMA Women's Featherweight division this winter! Excited to make my return…"
Fans seemed very pleased with Bellator's decision to pick Sara McMann. They had trust in McMann's fighting caliber.
Thus, the division in Bellator MMA is about to become more exciting.
ADVERTISEMENT
Article continues below this ad
Sara McMann won't be a cakewalk
Sara McMann won't be an easy opponent for anyone at Bellator. The former Olympian has tonnes of experience under her belt. The American has faced some top-notch fighters in her life including the ones at Olympics, international events, and UFC. Noted opponents that Sara McMann has faced in her UFC career include, Ronda Rousey, Amanda Nunes, and Miesha Tate.
The Bellator has secured a very potent pool of fighters in the Women's Featherweight division, and the challenges will try their best to topple the current champion. When the fights unfold, there will be a lot to watch out for.
ADVERTISEMENT
Article continues below this ad
Are you a Sara McMann fan?
Watch This Story: Impressive Victory to awful Twitter Trend Fire Ronda Rousey trends on Twitter after SmackDown Botch