"Tyson's My Boy"- Former UFC Champion Tito Ortiz Issues a Bizarre Call Out to Mike Tyson
Published 05/24/2020, 11:58 AM EDT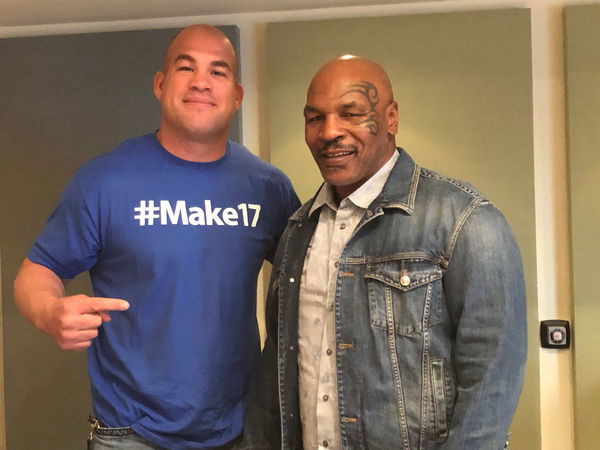 ---
---
Mike Tyson left half the world in stitches after announcing a potential comeback to the boxing ring. Following his announcement, several fighters have expressed an interest in the former heavyweight champion. However, one has stood out, UFC veteran Tito Ortiz.
ADVERTISEMENT
Article continues below this ad
Ortiz recently posted a video on his YouTube channel confirming his desire to take on Iron Mike. And the desire for fighting goes both ways, as Mike Tyson is not one for backing down.
The Baddest Man on the Planet confirmed that he is open to taking on anyone. The only pre-requisite, as far as he is concerned is, that the proceeds of the fight should go to a charitable organization. For that is the purpose of an exhibition fight.
ADVERTISEMENT
Article continues below this ad
Ortiz, in the video, recalls the time when Mike Tyson watched him prepare for his fight ahead of UFC 33. Ortiz took on Vladimir Matyushenko with his title on the line. The People's Champ defended his title with a win via unanimous decision.
Ortiz opens up about the conversation he had with Mike Tyson's representatives. The boxing legend's team recently contacted him regarding a potential fight.
"I was like, 'Fight Mike Tyson? I think that sounds pretty damn good.' I mean I like Tyson. Tyson's my boy, I have nothing but respect for him. I want to work hard and I want to be the best person I can be. Tyson's been working hard being the best person he can be," said Tito Ortiz.
Tito Ortiz impressed by Mike Tyson's resolve
Tyson's comeback to fighting ways is one of the most ambitious and impressive feats. Moving at that speed at the age of 53 seems rather unreal.
"He's done a full 360, he's changed his life completely. He's happy now, his mind is in the right place. When I seen Tyson a year ago, he was probably about 280 [lbs]. Right now, he's probably walking on about maybe 230. He's [walking] on my size. I know Mike Tyson has been talking high on Conor when he competed against Floyd Mayweather. But let's do it on a heavyweight level," said Ortiz.
ADVERTISEMENT
Article continues below this ad
Ortiz has faced a lot of flak after he issued a challenge to Tyson. Chael Sonnen is one of the most outspoken critics of the same.
Sonnen called Ortiz out for declaring himself as a legend on an Instagram post, captioned, 'Legend vs Legend'. Sonnen conceded that Tyson is a legend. However, he has no room for Tito Ortiz in that category.
ADVERTISEMENT
Article continues below this ad
What do you think?
Trending Stories