Becky Lynch, the WWE Raw Women's Champion, spoke to TMZ Sports and stated that a rematch with Conor McGregor will not end well for Khabib Nurmagomedov.
Herself an Irish fighter, Becky has supported McGregor on multiple occasions and McGregor, too, has done the same for Lynch. There seems to be an Irish stronghold in the world of fighting.
Lynch shared her rather one-sided views regarding the possible rematch between Conor and Khabib. She said, "Conor's got it. Of course, I'm going to say, my countryman. He's got it. He outstruck Khabib in that last night and I think he's been working. You saw it in the last fight. He's got a new gameplan, his head is firmly in it, and I think he wins it."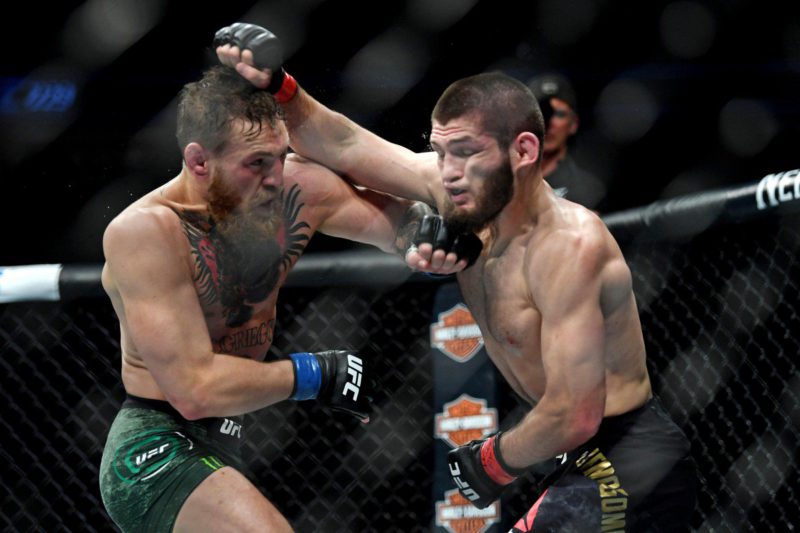 We all agree with one thing. Conor McGregor has been working hard, but that is all that can be firmly agreed upon from Lynch's statement.
Saying that Conor outstruck Khabib Nurmagomedov in the last fight will not bode well with the UFC Universe. The statistics of the fight show that it was a closely contested fight and Conor didn't really outperform Khabib in any aspect of fighting. Yet, hardcore McGregor fans will believe what she said to be true.
Also Read: You Can't Cross the Line With Khabib Nurmagomedov: Ali Abdelaziz Trashes "Scumbag" Conor McGregor
The fact remains that Conor tapped out to Khabib's submission move, thus providing "The Eagle" with a plain victory. He has only faced two losses over his career at the UFC, both by submission. The first loss he faced was against Nate Diaz and tapped to submission at 4:12 in the second round.
Will Conor McGregor shine in the rematch?
Still, there is hope. A lot of it. Conor Mcgregor was better prepared the next time he met Nate Diaz and won the fight via majority decision. He came back stronger and adjusted his fighting style to counter Nate Diaz's. If there's one thing that we know, Conor McGregor will figure out your game, and he will not spare you the next time. He will identify holes in both his game and his opponent's, leaving no stones unturned. Especially after a loss.
Conor McGregor's most recent fight with "Cowboy" Donald Cerrone also plays a huge role in determining his readiness. He defeated the legendary fighter within 40 seconds, displaying the enormous change he has undergone as a player. "The Notorious" is waiting for a fight with Khabib and we will soon know whether it will happen soon, as the winner of Khabib vs. Tony Ferguson will most probably determine his next opponent. Do you think Conor will able be able to turn the tables when he faces Khabib next?
Also read: Dana White Gives an Update on Conor McGregor vs Khabib Nurmagomedov Rematch
Continue the conversation on Telegram, join other MMA fans on MMA Fans Group