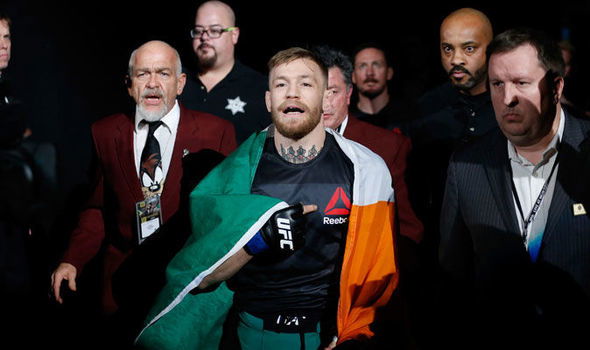 Conor McGregor recently featured in an interview post his promotional advertisement for Reebok. He spoke at length about various aspects revolving around his professional life.
Conor revealed the various reasons behind why he is called "The Notorious". Of course, we all know his dynamic personality and a few added traits that come along with it are the main reasons. He revealed that his coach actually played a huge role in the naming. McGregor said, "My coach called me that back in the day. He saved my name in his phone as 'trouble'."
But that is not all. McGregor also stated that he is a huge fan of The Notorious B.I.G. Songs by the infamous rapper are often heard as part of Mcgregor's entrance themes. Elaborating on the same, he said, "I'm a big fan of the Notorious B.I.G. I've gone through a lot (of his songs)."
McGregor stated that for his entrance songs, he always chooses songs by Sinead O'Connor and Biggie. While the Irish ballad singer helps McGregor reach his inner warrior, Biggie's music helps him calm down and relax his muscles before the fight.
This truly shows just how serious a fighter Conor is. Ranging from his extensive training routine to decoding his entrance music, he ensures that everything about his preparation is picture-perfect. Thus, when he steps into the octagon, he is mentally and physically prepared for whatever lies ahead.
Also read: Conor McGregor Gets Nostalgic Watching His Amateur MMA Debut

Carrying on with the interview, McGregor shared various details about life outside of the UFC.
Apparently, McGregor takes a deep interest in the filmmaking business. He shared that he has been a part of various film projects like documentaries, wherein he was majorly involved as the executive producer. He has also been part of a few projects as a director.
Conor seems content with the fact that he has taken up everything he is passionate about in life. This comes as a huge bonus for the fighter as life post Professional Fighting will not be aimless at any stage.
Talking about life after fighting, Conor said, "Athletic life is short, right? As cruel as it sounds, nobody cares about the athlete post-career. I've studied many of (the athletes). I know the do's and the don'ts for life after fighting." He also appeared happy about embracing his passions like whiskey, filmmaking, etc.
Mcgregor has yet again proven that he is not just a good fighter, but also an intelligent person. He quite clearly plans much ahead for his future and handles business calmly and thoughtfully. Do you think Conor's personal life adds to the inspiration that he is?
Also read: "I am onto My Second Movie": Conor McGregor Makes Huge Announcement
Continue the conversation on Telegram, join other MMA fans on MMA Fans Group