Even after more than a decade into the sport of MMA, Khabib Nurmagomedov is still unbeaten and has achieved some incredible feet inside the octagon. The UFC lightweight champion has effortlessly beaten some of the top contenders in the division such as Conor McGregor, and Dustin Poirier.
And after such a dominating reign in the lightweight division fans have started speculating whether there is anyone left who is going to dethrone the Russian wrecking machine.
Khabib takes on Tony Ferguson at UFC 249. Many believe that Ferguson is the one who is going to put an end to Khabib's unbeaten streak. Ferguson's relentless pressure, durability, striking and unpredictability might be enough to take Khabib into deep water. However, Dustin Poirier believes that the lightweight champion will defeat Ferguson at UFC 249.
In a recent interview with Ariel Helwani, when asked to predict the fight between Tony Ferguson and Khabib Nurmagomedov, Poirier said that if Kevin Lee was able to outwrestle Tony then Khabib would do the same and pick up another win.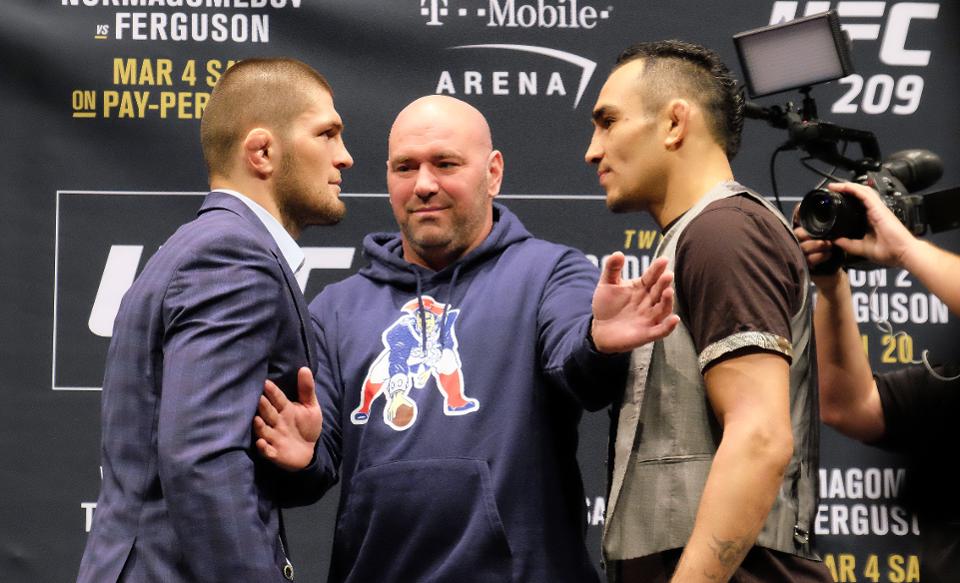 Read: Khabib loses to Ali Abdelaziz, takes revenge afterward
Justin Gaethje might beat Khabib Nurmagomedov: Dustin Poirier
When Ariel asked who in the lightweight division will give the toughest challenge to Khabib, Poirier said it might be Justin Gaethje. Poirier explained:
"He might have the ability to keep his back off the fence and keep it in the middle and, if he does get taken down, scramble back up. I think guys like that, who are going to take risks and brawl and have the hips and wrestling knowledge to stay up, will give him problems," he explained.
Even though Khabib has fought some elite fighters during his UFC career, he has not fought someone with a wrestling pedigree as impressive as Gaethje's. Gaethje has never showcased his wrestling ability inside the octagon. But it is believed that he might be the only one to stop the takedowns from Khabib.
After UFC fight night 158, when asked about his gameplan in a potential fight against Khabib, Gaethje said:
"He(Khabib) probably beats me if you put it on paper. But I hit so hard, I kick so hard, and I'm so athletic – the way you stop a takedown in wrestling is to meet force with force. You don't try to go away. I won't touch the cage. If he's going to take me down, it's going to be in the middle, and he's going to get his leg kicked a few times before he even gets a shot off."
Justin Gaethje has been on an impressive three-fight win streak after the losses from Eddie Alvarez and Dustin Poirier. Gaethje has made a significant adjustment in his game and has been able to knock out his last three opponents within the first rounds. However, it's a different ball game when you are up against arguably the greatest lightweights of all time, Khabib Nurmagomedov.
Do you think Gaethje can overcome Khabib Nurmagomedov inside the octagon?
Continue the conversation on Telegram, join other MMA fans on MMA Fans Group