UFC Fight Night 157: Jessica Andrade vs Weili Zhang Prediction And Fight Analysis
Published 08/27/2019, 5:57 PM EDT

Follow Us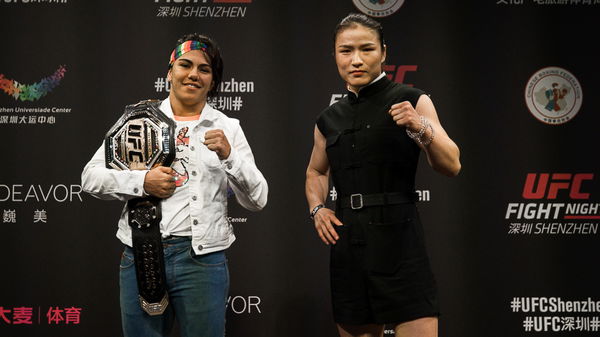 UFC Fight Night 157 will provide a possibility to the fans to witness the first Chinese fighter winning the UFC title as Weili Zhang sets to fight the straw weight champion, Jessica Andrade.
UFC Women Straw weight division had its new champion when Jessica Andrade knocked out the former champion Rose Namajunas.  And now Andrade is going to defend her throne against Weili Zhang in the main event of UFC Fight Night 157 in China.
UFC is looking to spread its horizon to all parts of the world including China. Few months back, UFC built an UFC performance institute in China to promote the sports and recruit the talents. And with a Chinese Female Fighter main eventing the UFC Fight Night, UFC has taken a big step forward to capture the Chinese market.
ADVERTISEMENT
Article continues below this ad
Talking about the match up between Andrade and Weili Zhang, It was not the best possible option for the title fight. The rematch with Rose Namajunas and   Joana Jedrzejczyk was on the table for Jessica Andrade. However, Rose is not ready to get into the octagon yet as informed by Dana White and Joana is set to fight Michelle Waterson. And that led Andrade to fight number 6 ranked Weili Zhang.
Weili Zhang:
First let's discuss the challenger Zhang. It's needless to say that Zhang is a serious threat to Andrade's title. She has a MMA record of 19-1 with 9 knock outs and 7 submission. Zhang will be oozing with confidence as she will be entering the octagon with a 19 fight win streak and a arena full of fans cheering for her in her hometown. Zhang is a fierce striker with a solid ground game. She seems the more all rounded fighter than Andrade.
Zhang can strike with the best strikers in the division as she proved in her last fight against a tough opponent, Tecia Torres. Zhang did too some damage in that fight, but in the end she did enough to impress the judges. Zhang throws lethal leg kicks and effective combinations. It won't be surprising to see Zhang implementing her lethal ground and pound against Andrade as well if the fight goes to the ground.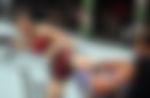 Jessica Andrade:
Jessica Andrade is not the most polished striker in the straw weight division. However, she packs some serious power behind the punches she throws. Andrade brings chaos into the octagon with her power and pace. And who can forget the slam that won her the title against Rose. She has some impressive victories on her resumes such as Torres, Karolina Kowalkiewicz and Claudia Gadelha. Andrade is a battle tested fighter who had fights with some of the best in the division and exceeds Zhang when it comes to experience inside the UFC octagon.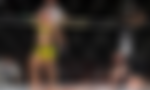 So How does the fight play out between Andrade and Zhang?
Jessica Andrade striking game has been exposed on many occasions. She was outstriked by the former champ Joana. And she lost every minute of her fight against Rose Namajunas until she slammed Rose on her head. Agreed the victory over Namajunas was not a fluke. However, if the fight had gone for full five rounds, Rose would have lighten up Andrade like a Christmas tree since she was having tremendous success in the first round.
Andrade being the shorter fighter will have to close the distance and fight in the pocket. So needless to say, Andrade will come all guns blazing with her berserker mode on. But even inside the pocket, Zhang can do a better job throwing combinations compared to Andrade who will be looking for a brawl. Moreover, considering it's a five round fight Andrade won't be able to implement her power game effectively.
Zhang has the reach advantage here. It can be crucial if she implements kicks into her game plan to pick Andrade apart. If the fight goes to the ground then both of these fighters are pretty evenly matched. However, Zhang has excellent takedown defense and submission game to defend herself while grappling.
But it's the fight game. And someone like Andrade, who has vicious knock out power, can never be counted out from the fight. However, keeping everything in mind, China may have its first UFC champion in UFC Fight Night 157.
ADVERTISEMENT
Article continues below this ad
Prediction:- Weili Zhang beats Jessica Andrade
ADVERTISEMENT
Article continues below this ad