UFC Fight Night 169: Magomed Ankalaev Secures a Controversial Finish Against Ion Cutelaba
Published 02/29/2020, 10:39 PM EST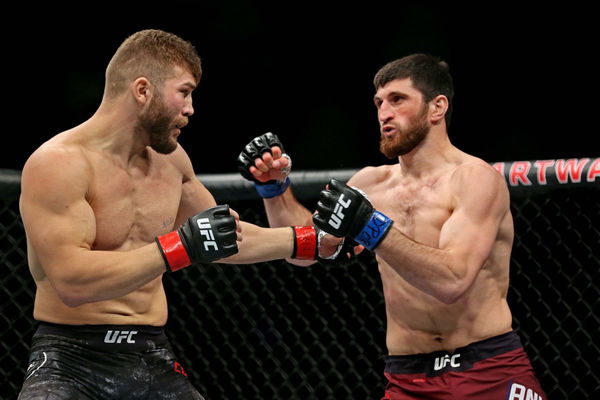 ---
---
UFC Fight Night 169 witnessed the highly controversial bout between Ion Cutebala and Magomed Ankalaev.
ADVERTISEMENT
Article continues below this ad
ADVERTISEMENT
Article continues below this ad
The fight started with Ion taking up the offensive. He surged forward with extreme aggression, landing body kicks early on. Ankalaev did not succumb to Cutebala's aggressive striking. He dodged and landed strikes of his own, maintaining the balance.
In response to yet another aggressive "outburst" by Cutelaba, Magomed launched a two-punch counter, connecting both the times. He sealed the counter with a left kick to Cutebala's head, thus dazing him.
Magomed seized the opportunity and capitalized by unleashing a flurry of left kicks. Ion managed to stay standing upright, defending the strikes. Yet, he seemed too out of composure to respond properly.
With his eyes wobbling, Ion threw fists at Magomed, only managing to punch the air. After his last attempt at a strike, the referee called an end to the match. Magomed Ankalaev won via TKO within 38 seconds of the first round.
UFC Fight Night 169: Referee's call on Ion Cutelaba justified?
As soon as Magomed Ankalaev landed the left kick to Ion's head, the fight was more or less over. It was pretty evident from Ion's body language that he was barely managing to keep upright.
Yet, "The Hulk" Cutelaba held his ground and threw strikes to fight off Magomed's offense. At this point, it was very unclear whether he was in fighting condition or not.
It was the last strike he threw towards Ankalaev that convinced the referee to call a halt to the fight. As Magomed backed away from him, Ion threw a huge right hand at him. Magomed was too far away for anyone in his right mind to carry out that strike at him.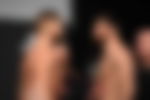 Moreover, Ion seemed to be fighting blind, throwing fists here and there without any real consciousness. Therefore, the referee stopped the fight, leading to a 13th career victory for Magomed Ankalaev.
Ion displayed a lot of aggression in protest against the referee's decision. He seemed perfectly alright while arguing about the stoppage of the fight. He paced up and down the octagon, flustered with the turn of events.
ADVERTISEMENT
Article continues below this ad
This raises many questions regarding the referee's decision. While Ion was definitely not in a stable condition, he did manage to hold his ground and argue quite aggressively. Unlike someone who has been knocked out.
Do you think that the referee's decision is justified?
ADVERTISEMENT
Article continues below this ad