WATCH: Tom Aspinall Knocks Out Jake Collier in 45 Seconds in First Ever UFC Match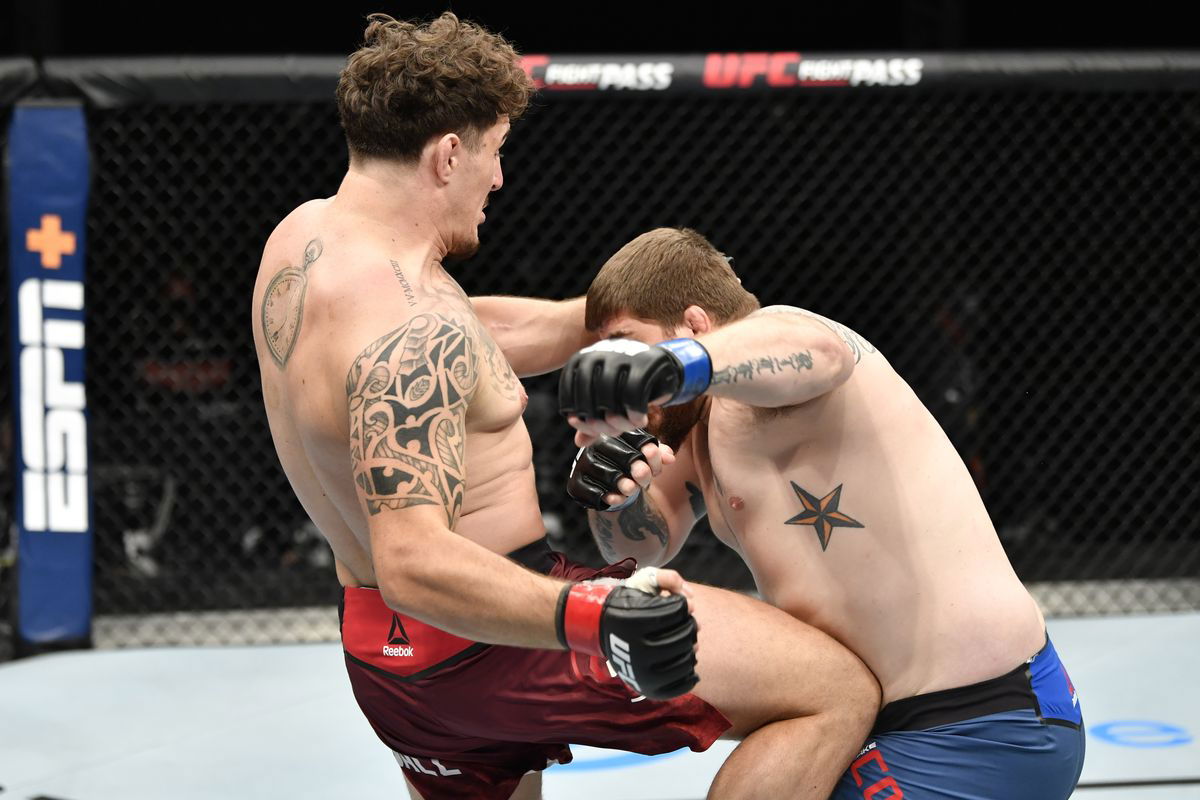 As the 8-fight preliminary card of UFC Fight Night 174 draws to a conclusion, fans are getting their fair share of moments to cherish. The 5th fight on the night saw Heavyweight fighters Tom Aspinall and Jake Collier enter the cage for what was to be a 3 round fight. 
Around the 30-second mark in the first round, both fighters were bouncing lightly on their feet as they had their fists ready. Collier landed in a leg kick, but that did not have any effect on Aspinall. The red-trunk fighter landed a knee and followed it up with a punch as Collier crumpled in a heap. 
Tom Aspinall makes UFC debut in style
The British UFC debutant did not back off and managed to hit 'The Prototype' once more before the referee intervened and ended the fight. 
OOHHHHH! BIG KNOCKOUT! 🔥

Welcome to the UFC, Tom Aspinall! 🇬🇧#UFCFightIsland3 pic.twitter.com/wtxPYkp9KM

— UFC on BT Sport (@btsportufc) July 25, 2020
The win took Aspinall's professional win count to 8. All of his previous 7 wins had come via finishes within the first 5 minutes of the fight.
He will no doubt be glad to have kicked off his time in the UFC with a dominant win in this fashion on a fight card headed by his training partner Darren Till. The 5th ranked Middleweight will fight Robert Whittaker in a crucial divisional match to close out the Fight Island proceedings. 
Aspinall's win saw him enter the top 5 for the fastest UFC Heavyweight division finishes on debut. The fighter's lightning-quick 45-second TKO is the 4th fastest.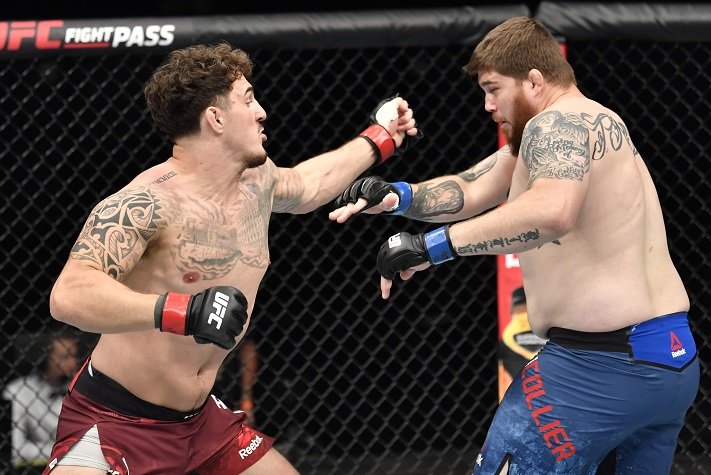 Fight Island has seemed to be abysmal for Collier who made a return to competition after two years of inactivity. He last competed at UFC Fight Night 120 and beat Michael Fortuna. Two days before the fight, 'The Prototype' let followers know that he was out of "chew."
He said, "On (Fight Island) and I have run out of chew… I can't find any!! Not even at the airport. It's Day 2 without it! Help" 
On #FightIsland and I have run out of chew… I can't find any!! Not even at the airport. It's Day 2 without it! Help @GrizzIyTobacco @Grizz_Tobacco #cantfindany #Help #WinterGreenLongCut #Waitingforweighins @UFC

— Jake Collier (@Jakecollier88) July 24, 2020
Now, the silver lining for Collier is that he can head back home and get his "chew."
However, for Aspinall, it is onwards and upwards as he will look to enhance his star in the UFC and build on his commanding debut. What did you make of the new UFC fighter? 
Source: UFC on BT Sport-Twitter, Tom Aspinall-Sherdog, Jake Collier-Sherdog, Jake Collier-Twitter
Continue the conversation on the app, join other MMA fans on MMA Fans App