UFC Fight Night Predictions: Joseph Benavidez vs Deiveson Figueiredo 2
Published 07/18/2020, 4:04 AM EDT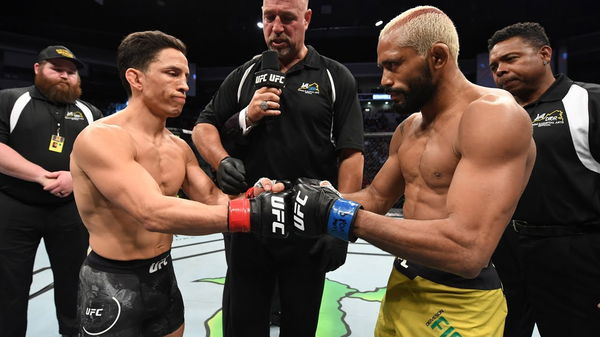 Almost five months after their first meeting, Deiveson Figueiredo and Joseph Benavidez will go at it again. The bout will go down in a couple of hours on UFC Fight Island, Abu Dhabi.
ADVERTISEMENT
Article continues below this ad
When Benavidez and Figueiredo collided for the first time, things did not work out well for either man. The first round was incredible. However, it was the second round that stole the show. After an accidental headbutt, Deiveson chased down Joseph to score a knockout.
https://www.youtube.com/watch?v=b2p6gzMyhLE
ADVERTISEMENT
Article continues below this ad
Although Figueiredo won the bout, he could not win the title as he weighed in heavier than the flyweight limit. Besides that, fans questioned whether the fight could have gone differently if there was no headbutt involved. Hence, it only made sense for the UFC to book the match again.
Fortunately, both fighters are on weight this time.
UFC Fight Island 2: Joseph Benavidez vs Deiveson Figueiredo 2 – The Prediction
Joseph Benavidez has a pro record of 28-6. He has been in the UFC for quite a while and has defeated some of the best athletes in the promotion, including former champion, Henry Cejudo.
His opponent, on the other hand, has a pro record of 18-1. He suffered his only loss at the hands of Jussier Formiga in 2019. Since then, Figueiredo has amassed a three-fight win streak.
ADVERTISEMENT
Article continues below this ad
Right off the bat, Figueiredo has the physical advantage over his rival. The Brazilian's walk around weight is close to 165 lbs. Although Benavidez possesses knockout power, Figueiredo will have the power advantage in this fight. He is also durable and has a granite chin.
In the last fight, Figueiredo walked through Benavidez's shots. The speed will favor Benavidez, but it won't matter in this match as Figueiredo's straight punches will be faster than his opponent's looping shots. As far as the ground game is concerned, Figueiredo has an advantage over there as well.
ADVERTISEMENT
Article continues below this ad
Benavidez will have to point fight in this match and avoid getting hit clean. If he does not keep Figueiredo at a distance, he will get walked down and finished. Given the gap between the last fight and this one, it will be difficult for Benavidez to fully recover or make the necessary adjustments.
Winner: Deiveson Figueiredo (Round 3, KO)