Kyler Phillips Says He Loves Paulo Costa After UFC Fight Night TKO Victory
Published 10/04/2020, 6:53 AM EDT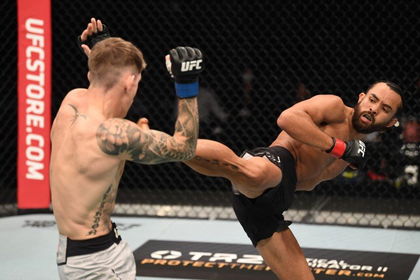 ---
---
UFC bantamweight Kyler Phillips made the most out of his main card appearance at UFC Fight Night, scoring a statement finish. The TKO came 00:44 of the second round as 'The Matrix' rained heavy ground and pound strikes upon Cameron Else. The victory marks his third win in the promotion and he will be keen to make a wave in the 135-pound division.
ADVERTISEMENT
Article continues below this ad
Else came out and began pressuring right away as expected from the opening moments of the fight. Kyler Phillips utilized his clear speed advantage to ground his opponents and subsequently mount a significant offense. The win will help Kyler attain the visibility he's looking for in a division that is exceedingly hard to breakthrough.
ADVERTISEMENT
Article continues below this ad
Kyler Phillips lays down the law
The 8-1 budding prospect spoke to the media after his victory and was jovial, to say the least. He expressed an interest to keep the ball rolling and build on the momentum he generated with his recent performance. Not to mention, the high-spirited bantamweight would show his love for Paulo Costa at the scrum.
He said, "I am the boss, man! Whenever I decide to fight..for real though man whenever they want me to fight let's do this. I am ready to go. Let's do this, you know what I mean, why not?"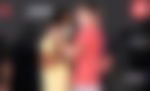 Phillips explained that without anything much to do outside of fighting, the trip to Yas Island made sense. Chiefly, the UFC struck a gold mine with their decision to move to Abu Dhabi to keep their schedule. What's more, many new fighters have broken into the mainstream due to the visibility that Fight Island brings.
ADVERTISEMENT
Article continues below this ad
"I don't have nothing else better to do. Go back home, put a mask on, stay at home, stay quarantined, or come to fight Island, fight for the UFC. That's a no brainer so. I can't wait to do it again. I love all you guys, I love the UFC…Paulo Costa!"
ADVERTISEMENT
Article continues below this ad
The bantamweight division is booming at the moment, with several fighters looking to make their way to the top. Kyler will have to maintain his appetite to chase the finish if he is to make his way into the division's elite tier. Moreover, the MMA lab prospect will be keen to secure more main card appearances to make his presence known to fans and fighters alike.