WATCH: Crazy KO by Knee to the Head by Roman Dolidze on UFC Fight Night on Fight Island
Published 07/18/2020, 8:53 PM EDT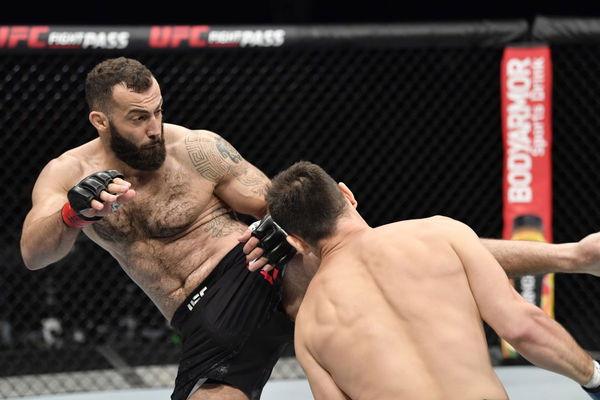 The UFC's 3rd event from Fight Island is underway and graced our TV screens. In similar fashion to the Fight Night Kattar vs Ige, the UFC Fight Night Deiveson vs Figueiredo 2, also has delivered an entertaining preliminary card. 3 out of the 7 matches ended in finishes.
ADVERTISEMENT
Article continues below this ad
The first 2 of these came in the form of submissions, one of which was a crazy guillotine choke. However, KO fans were not to be disappointed as the first one of the night took place on the final preliminary card.  
Roman Dolidze makes an impressive UFC debut
ADVERTISEMENT
Article continues below this ad
The clash saw Light Heavyweight fighter Roman Dolidze make his UFC debut. He took on Khadis Ibragimov who had competed on two occasions. The fight ended at 4:15 in the first round. Here, the Georgian fighter had a stance as though he was going for a punch. Hence, Ibragimov leaned forward to avoid it. This proved costly as he managed to position his head perfectly for a knee straight to his right cheek. 
The Russian fell to the canvas but managed to remain on his knees and elbows. Dolidze did not relent and quickly unleashed a flurry of clubbing rights to the fallen fighter's skull. After 5-6 blows the referee Herb Dean pulled him off and declared that the fight was over. 
Following the fight, Ibragimov seemed a tad woozy as he slowly made it back to his feet.
As a result of his win, Dolidze has extended his professional winning streak to seven. Five of his previous wins came with the World Warriors Fighting Championship and his debut win came at the RFP. All of his wins before the UFC had come via finishes, 3 submissions, and 3 (T)KOs'. Based on his debut showing, fans can assume that he will look to continue in the same vein. 
ADVERTISEMENT
Article continues below this ad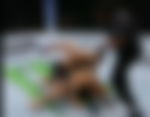 Following the fight, the buoyant winner revealed that he had extra motivation to do well following the staredowns. Following the fight, Dolidze said, "I'm very happy. It was a good, tough opponent, but I don't like when someone looks at me like he did yesterday. Big mistake."
It certainly is for Ibragimov who is now on a hat-trick of defeats and is still looking for his first UFC win.
ADVERTISEMENT
Article continues below this ad
What did you make of Roman Dolidze's stunning fight-ending kick on Fight Island?
WATCH: Crazy Guillotine Choke By Joel Alvarez At UFC Fight Night On Fight Island