UFC Fighter Jessica Penne Avoids Four Year Ban, Suspended 20 Months For Multiple Violations
Published 02/29/2020, 6:00 AM EST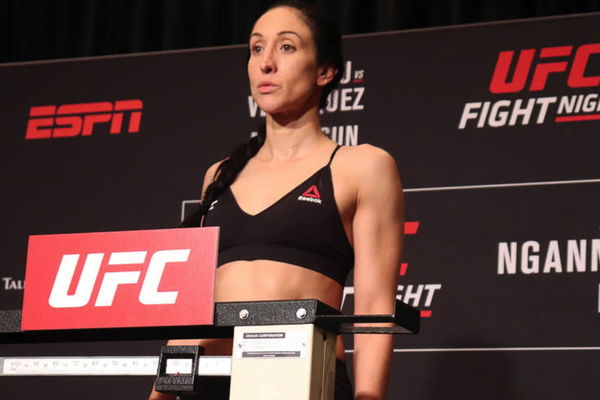 ---
---
The former Invicta champion and UFC title challenger, Jessica Penne has received a 20-month ban. This ban comes from her positive results in a doping test. This was announced by the USADA(United States Anti-Doping Agency) on Friday.  
ADVERTISEMENT
Article continues below this ad
ADVERTISEMENT
Article continues below this ad
The case concluded and resulted in a better outcome than she had even hoped for. Her sentence was reduced from 5 years to 20 months. The ban is retroactive from April 8th, 2019. This means she will be able to contest again next only in December.
ADVERTISEMENT
Article continues below this ad
Jessica Penne was found guilty of using a steroid called Stanozolol. Her suspension was mainly reduced "due to the totality of circumstances, including the complexity of issues, as well as Penne's participation in discussions with USADA following her comments in January."  
Despite her being seen as a repeated offender, Penne wasn't intending to cheat in her case of 2017 and this helped reduce the duration of her ban. In 2017 she tested positive for dehydroepiandrosterone. But through interrogation, it was found that she ingested the substance through a dietary suggestion of her doctor concerning a medical issue. Penne still faced an 18 month-long ban.
Penne has denied these allegations both times. She also said that the USADA "bullied" her on both occasions. Almost pushed to the extent of considering retirement. A lot of money had to spend to get medication and supplements tested to clear her name, to the verge of leaving her "broke".
ADVERTISEMENT
Article continues below this ad
In the second case, she went to the extent of obtaining third party lab-testing results to prove that the source of stanozolol was medication. But unfortunately, USADA and the World Anti-Doping Agency didn't find those results adequate to justify her positive drug test results.
Penne currently stands with a record of 12-5. She is a former woman's straw-weight title challenger and is currently waiting to return to the sport as soon as her ban is lifted. He still has a few months off and should use this time to self-reflect and come back from this set-back a lot stronger.