UFC World Concerned for "Short Guy" Alexander Volkanovski as Islam Makhachev Dwarfs Aussie Champ Right after UFC 284 Clash
Published 01/22/2023, 9:45 AM EST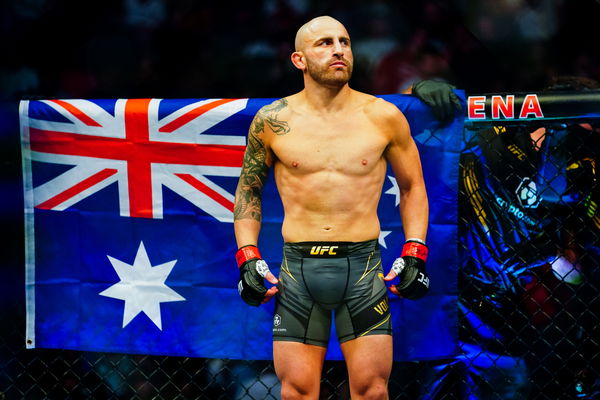 The fans just witnessed a spectacular first PPV of the year with UFC 283. But there's no stopping in the thrill here, as we have one of the most anticipated bouts of the UFC is lined up right after. Alexander Volkanovski and Islam Makhachev are scheduled to square off in Perth, Australia on February 12 at the UFC 284. Both fighters have a lot at stake with this high-octane bout. The No.1 pound-for-pound UFC fighter is moving to the lightweight and aiming for a 'Champ Champ' label next. Wherein the reigning lightweight champion of the UFC is eyeing to become the next pound-for-pound king by putting 'The Great' down in their encounter. And the promotional campaign for the card has already started. The Australian fighter shared a picture if himself with his Dagestani opponent as a result. But the fans found the size difference between the two, to be something to make fun of. And they made an all-out effort to mock Volkanovski in their responses.
Alexander Volkanovski is subjected to mockery of his height
Islam Makhachev has reached Australia with just a few days left for his fight against 'The Great'. There, the two fighters squared off for the first time, and Volkanovski shared the action with his followers on Instagram. However, it prompted some retorts that made light of their disparity in height.
ADVERTISEMENT
Article continues below this ad
 

View this post on Instagram

 
The 34-year-old wrote, "Size up!! 😤" in his caption. In an odd twist, the fans made fun of him for that very element.
Check out how the fans reacted to the height difference between Alexander Volkanovski and Islam Makhachev:
"The photo nobody expected"
"volks in f*cking high heels"
"damn islam looks like a fuck*n giant here"
"Mini – Hulk😂"
"Honestly, the size difference wasn't as big as I thought"
"3inch heels volk"
"Hello short guy"
"How many inches those shoes give you hahahahah 😂"
Having said that, this isn't the concern for the pound-for-pound king, though. In fact, he's prepared to prove people wrong who believes the height will give Islam Makhachev any edge when they meet at the UFC 284.
Size doesn't matter for 'The Great'
In his conversation with Michael Bisping on his podcast, Volkanovski discussed his strategy for UFC 284 and his quest to crack the Dagestani wrestling conundrum. The 34-year-old said, "It's the Dagestani wrestling, no one can figure this out, they're on a roll and all that. Khabib's there. Islam, what he's been doing his last few fights… As soon as Islam won and the people talked, something was just like, bang, that's all that I cared about is taking out Islam."
ADVERTISEMENT
Article continues below this ad
He further stated that he loves the fact that people doubt him at times. That's what fuels him to prove them wrong. Volkanovski said, "Seeing people, like, 'He's gonna be too big, too strong,' and all this. The challenge, the opponent that I've got, that excites me more. I think going for this champ-champ and taking out someone like Islam is really what people are gonna sort of remember. A lot of people think he's unstoppable right now, but I'm going to show you he is stoppable and I can't wait to go out there and do my thing."
It is going to be an out-and-out war between the two fearsome fighters vying for the top spot in the UFC. Moreover, it is difficult to determine who has the advantage considering their remarkable résumé.
ADVERTISEMENT
Article continues below this ad
Watch this story: Jon Jones' UFC Deal Compared To Francis Ngannou And Brock Lesnar
Who are you rooting for at the UFC 284? Alexander Volkanovski vs. Islam Makhachev? Let us know in the comments below.
Edited By: Ajinkya Aswale