UFC 2021 Rewind-Best Moments So Far Including Francis Ngannou's victory
Published 04/04/2021, 2:25 PM EDT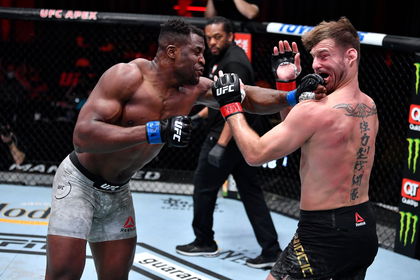 ---
---
We are not even halfway through the year, and we already have had plenty of glorious moments. From Francis Ngannou getting the best of Stipe Miocic to Amanda Nunes' motherly moment and more.
ADVERTISEMENT
Article continues below this ad
Some were emotional, some history-defining, and some astonishing. Let's shortlist some of the best moments from UFC that caught the attention of viewers.
Francis Ngannou addresses countrymen after knocking out Miocic
ADVERTISEMENT
Article continues below this ad
The entirety of Cameroon and that of Africa celebrated Francis Ngannou beating Stipe Miocic as he was crowned the UFC Heavyweight Champion. It was their rematch from the 2018 encounter where Miocic got the better of him.
In the post-match interview, Ngannou talked about his experiences and motivated people to just try to keep on moving. Ngannou said, "For those who are in the same situation, I mean I can't do anything but If I can tell somebody something, it's just like keep moving, believe."
He further said, "It's not fair, I know, but it's not your fault." Ngannou talked about how every youngster should try to achieve something in life.
Julian Marquez proposes Miley Cyrus to be his valentine
Fighters use their post-win interviews to name their preferred next opponent or describe their win. Marquez, on the other hand, did something else. He proposed to Miley Cyrus.
Shave an MC into your chest hair and I am YOURS ❤️ Happy VDay and Congrats my love!

— Miley Ray Cyrus (@MileyCyrus) February 14, 2021
In the interview, Marquez said, "I've been (waiting) 31 months to get on this damn mic and to call these people out right now, this is my time to shine.
"So… Miley Cyrus, will you be my Valentine?" And Miley Cyrus accepted the proposal, albeit with some conditions.
Amanda Nunes dedicates her victory to her daughter
Amanda Nunes made it look easy when she defended her UFC welterweight title against Megan Anderson at UFC 259. In the post-match interview, Nunes talked about the fight, becoming a mother, and dedicated the victory to her daughter.
Talking about the same, Amanda said, "Oh it's amazing you know, uh.. this victory is for her. She's such a good baby, she helped me be a better human." It's really heartwarming for fans to see a different side of their idols when they aren't fighting.
 Kamaru Usman and Gilbert Burns share an emotional moment
Kamaru Usman and Gilbert Burns embraced in a deep show of friendship and respect right after their fight. Having been teammates for a long time in Sanford MMA, Florida, the title fight had a lot of emotional significance for both Usman and Burns.
Usman defeated Burns at UFC 258 via KO/TKO. In the post-match interview, Usman stated we should take away no credit from what Burns has done for the welterweight division, but he leaves all friendship outside the Octagon.
Israel Adesanya's loss to Jan Blachowicz
Adesanya's attempt to become a 2-division champion got thwarted by light heavyweight champion Jan Blachowicz at UFC 259.
This was Adesanya's first defeat in UFC. "Everyone who supports me, all my people, I appreciate you. I'm sorry," the lightweight champ said.
ADVERTISEMENT
Article continues below this ad
He further said he will take some rest for now before going back to the lightweight division. Although, he asks his fans to stay with him as he won't disappoint them.
It's not even been 6 months, and we have witnessed some truly remarkable moments. Some of the most expected fights are still in the air, and who knows what story could unfold prior to that. What do you think were the best moments of 2021?
ADVERTISEMENT
Article continues below this ad