5 Years Before Sealing Tyson Fury's Fate in MMA, Joe Rogan Commented on Shaquille O'Neal Participating in UFC: "It's Kinda Weird"
Published 05/25/2023, 1:55 PM EDT

Follow Us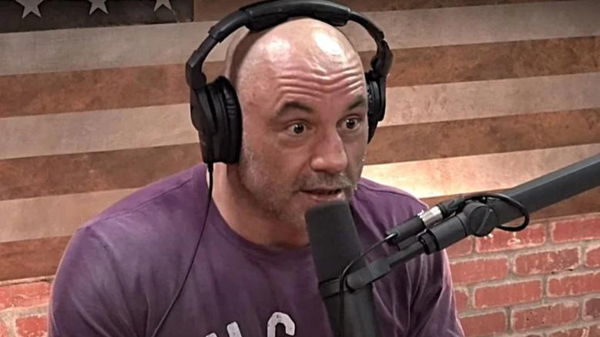 Joe Rogan revels in exploring potential crossovers within the realm of combat sports. With his profound understanding of fighting and a background steeped in martial arts, he never fails to present intriguing scenarios. Recently, the 55-year-old provocatively posed a hypothetical clash, merging the worlds of MMA and boxing, featuring the UFC superstar Jon Jones and the boxing great Tyson Fury.
In characteristic fashion, the star podcaster dismissed any notion of an equal contest, boldly declaring that the current WBC heavyweight champion would prove no match for the incomparable 'Jonny Bones'. This controversial proclamation quickly reached the ears of Fury, who retaliated against Rogan with unyielding fervor and cutting remarks.
ADVERTISEMENT
Article continues below this ad
Yet, this is not the first time Joe Rogan has entertained unconventional matchups. Years ago, he even pondered the idea of the former NBA player, Shaquille O'Neal, stepping into the MMA octagon. However, amidst all the speculation, Rogan highlighted the primary challenge that would inevitably prevent this notion from coming to fruition,
When Joe Rogan discussed Shaquille O'Neal in MMA
During a 2018 episode of 'The Joe Rogan Experience,' Joe Rogan raised the intriguing idea of witnessing the formidable presence of Shaq gracing the MMA octagon. In the midst of this discussion, he astutely pointed out one of the major concerns he had with the UFC, stating, "It's kinda weird that like the UFC has a weight limit."
ADVERTISEMENT
Article continues below this ad
Delving deeper into the topic, the UFC commentator proceeded to investigate the NBA giant's imposing measurements. With Shaq towering at 7'1″ and weighing in at 325 lbs, Rogan examined the heaviest division in the UFC, which is the super heavyweight class, encompassing fighters weighing 265 lbs and above. In light of this, Rogan emphatically stated, "A guy like that could never fight in the UFC. He probably can't make 265 lbs… If he did he'd be shredded."
It's worth noting that O'Neal had previously ventured into the realm of combat sports, participating in WWE back in 2009. He faced off against the formidable Big Show during his appearance at the 32nd Wrestlemania and participated in the Battle Royale. However, the considerations and constraints of weight classes in the UFC presented a different challenge altogether.
ADVERTISEMENT
Article continues below this ad
While the idea of seeing Shaq in the UFC was undoubtedly intriguing, it was ultimately limited to the realm of hypothetical conversations. How do you think Shaquille O'Neal would've fared in the UFC? Let us know in the comments below.
Watch this story: Take a Look at Some of Joe Rogan's Best Animal Impressions