Aljamain Sterling Gilbert Burns and Other UFC Fighters React To Teofimo Lopez's Victory Over Vasyl Lomachenko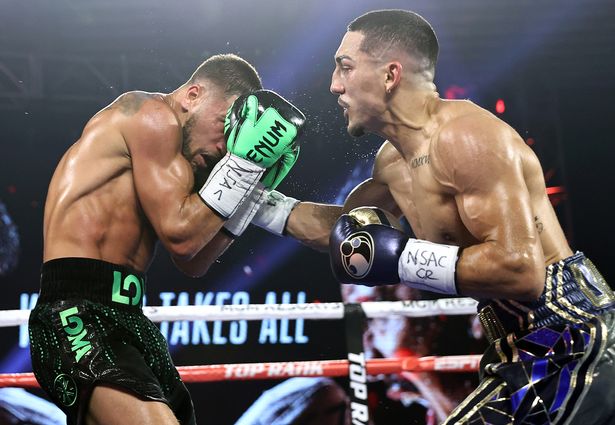 Teofimo Lopez took the boxing world by storm when he earned the nod on the judge's scorecards against Vasyl Lomachenko. The aforementioned bout took place at the MGM Grand Conference Centre in Vegas and saw Teofimo topple the pound for pound great. Moreover, he showed an ability to adapt to trying times as 'Loma' began to push the pace in the second half.
Teofimo Lopez's performance reached mainstream acclaim and everyone had to put in a word on the title fight. In fact, the MMA community also weighed in heavily on Lopez's triumphant ascension to the undisputed lightweight king.
UFC fighters react to Teofimo Lopez's decision victory over Vasyl Lomachenko
Fan-favorite slugger Eryk Anders and former title challenger Jessica Eye couldn't contain their excitement about the aforementioned bout. Moreover, the fact that Teofimo walked away with 4 belts further enhanced the moment for combat sports fans.
The boxing world just got shook to its core

— Eryk Anders (@erykanders) October 18, 2020
That was a fun fight to watch .

— Jessica Eye (@jessicaevileye) October 18, 2020
Chiefly, top strawweight contender Tatiana Suarez hilariously commented on the fact that the second half of the fight made up for the lackluster first half. Lomachenko kicked into gear once he realized he was trailing on the cards.
So glad I survived the first half of that fight so that I could see the second half of the fight 😂 #LomaLopez

— Tatiana Suarez (@tatianaufc) October 18, 2020
Marlon 'Chito' Vera, Edmen Shahbazyan, and Matt Brown were quick to congratulate Teofimo on his statement win. What's more, 'El Brooklyn' now finds himself in a pole position to begin solidifying his own status as the top dog.
Good night with the crew last nite @TeofimoLopez @PerfectingA pic.twitter.com/4CHCkEi5mV

— Chito Vera (@chitoveraUFC) October 18, 2020
Amazing job by Lopez. What a performance! Congrats to the new champ! #LomaLopez

— Edmen Shahbazyan (@edmenshahbazyan) October 18, 2020
Amazing fight by Lopez. 119-109 is sickening but he won fair and square. I wish boxing would go back to 15 rounds I think Loma had him figured out just took him way too long to do it. I had it 8-4 by the way https://t.co/1fxujmTylu

— Matt Brown (@IamTheImmortal) October 18, 2020
135-pound title challenger Aljamain Sterling gave 'Hi-Tech' Lomachenko a shout-out after falling short on the cards.
.@VasylLomachenko you're still one of the best brotha! I love watching you compete and hope you comeback and show the world "The Matrix" boxing style again 💪🏾 #LomaLopez

— Aljamain Sterling (@funkmasterMMA) October 18, 2020
Not to mention, there was a significantly large faction across the board that believes the fight would be a draw. Chiefly, the action became more competitive as time went on. Moreover, former UFC light heavyweight champion Rampage Jackson called for the two boxers to run it back.
I think this fight is closer then we thought!

— GILBERT BURNS DURINHO (@GilbertDurinho) October 18, 2020
It's fair to just call it a draw and have them run it back 💯 #LomaLopez

— Cub Swanson (@CubSwanson) October 18, 2020
I wanna see a rematch https://t.co/va06CsE89E

— Rampage Jackson (@Rampage4real) October 18, 2020
Additionally, the scorecards were put under scrutiny by the fans and media alike. A particular scorecard that read 119-109 was especially targeted as many believed it was somewhat extreme, all things considered.
That said, 119-109 is wacky as heck. 116-112 was the best scorecard, IMO.

— Ariel Helwani (@arielhelwani) October 18, 2020
119-110 is the dumbest judge in the world

— Belal Muhammad (@bullyb170) October 18, 2020
Lopez won but the judge's scorecards were wack

— Kenny Florian (@kennyflorian) October 18, 2020
Also Read: "Another Brooklyn Champion"- Mike Tyson Hails Teofimo Lopez
Continue the conversation on the app, join other MMA fans on MMA Fans App