Fans React as Demetrious Johnson Breaks Down Andrew Tate's Boxing: "Tate Has Had Some Retina Injuries"
Published 01/04/2023, 5:20 AM EST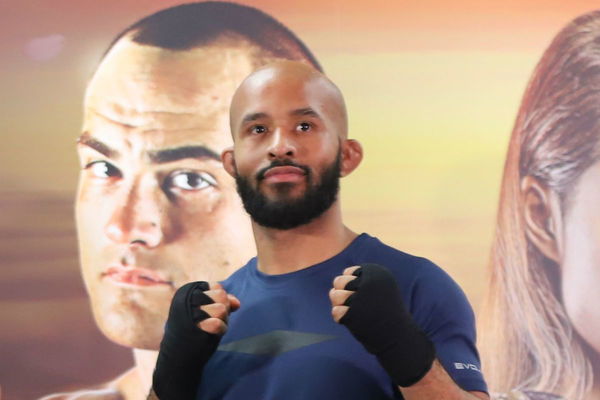 Former UFC and current ONE Championship flyweight champion Demetrious Johnson has made some assessments on kickboxer-turned-influencer Andrew Tate's skills in boxing. Andrew Tate is a 4-time kickboxing world champion. He turned to social media following his retirement from combat sports.
The 'Top G' has stated many times that he would like to get into the influencer boxing scene many times. YouTuber-Boxer Jake Paul even teased a potential match with Andrew Tate in a video posted on social media.
 

View this post on Instagram

 
ADVERTISEMENT
Article continues below this ad
Demetrious Johnson broke down Andrew Tate's sparring video and noticed that the retired kickboxer had a rather large stature. He also noticed that Tate had fast hands while also complementing his technique. Johnson said, "Awesome distance, getting nice and low, got that boxing stance." Johnson observed that he was sparring with a smaller opponent, who was also giving the 'Top G' some stiff.
Johnson believes that Andrew Tate is a commanded kickboxer but does have some cons in his boxing ability. He also mentioned that Tate had a habit of pawing too much. "Tate's legit when it comes to kickboxing," said the 36-year-old fighter. He added, "The only thing I'll say bad about Tate is pawing like a bear, like a panda bear."
Fans react to Tate's boxing assessment by Demetrious Johnson
Many fans made hilarious remarks about Andrew Tate on Demetrious Johnson's YouTube video. Some fans claimed that they didn't hear of Andrew Tate before his recent arrest on charges of human trafficking. While others urged Johnson to provide more breakdown details on the 'Top G's fighting ability.
Here are some of the comments from the reaction video:
ADVERTISEMENT
Article continues below this ad
I didn't know Tate was a kickboxer, but then again I didn't even know who he was until all the recent drama
I expect nothing less but his Tate analysis is spot on and if this is the only footage he's seen its crazy
Tate has had some retina injuries from having his gloves block and get knocked into his eyes. That's why he wears sunglasses often, and keeps his hands down.
We want more Tate breakdowns!!
There's plenty of Tate's real kickboxing fights out there. It'd be cool to see you break one of those down too.
Tate's hands down=KO'd if he ever steps into the Octagon which he will never do

It would be hilarious if Tate did a comeback video reviewing MM's review of him

 I could imagine Tate "Mighty Mouse doesn't know nothin about boxing""
Some fans also claimed that Andrew Tate would be knocked out if he ever decides to fight with an MMA fighter.
ADVERTISEMENT
Article continues below this ad
Tate has found himself in trouble with the Romanian government. He was recently arrested on charges of human trafficking and the Romanian police have seized his assets, including his precious collection of cars. It is unlikely that he will engage in a boxing match unless his legal issues are resolved. What are your thoughts on Andrew Tate? Drop your comments below.
WATCH THIS STORY: UFC President Dana White and Wife Anne Fight on New Years Eve; Both Issue Statements