Fans Troll Tyron Woodley for the Fake Jake Paul Tattoo
Published 09/28/2021, 11:11 AM EDT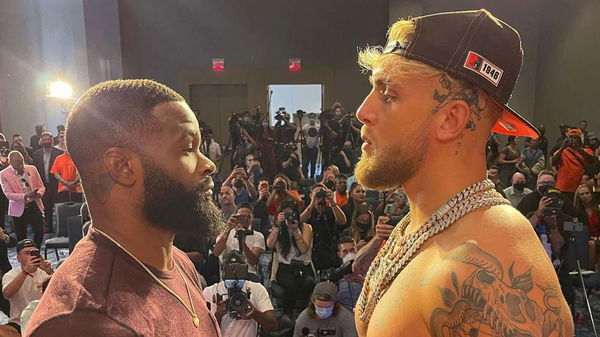 Tyron Woodley is one of the most well-known fighters in the UFC's welterweight division. 'The Chosen One' has been fighting professionally since 2009. Woodley rose quickly through the ranks, and it didn't take him long to claim the welterweight title. He won the welterweight championship by knocking out Robbie Lawler in the first round at UFC 201 and then defended it for three years.
He is well known for his devastating blows, kicks, and elbows.'The Chosen One has an outstanding MMA record of 19-7-1. His list of accomplishments and honors is impressive and admirable.
Tyron, after parting ways with the UFC, faced YouTube star Jake Paul in his first boxing match earlier this year on August 29th, 2021.
ADVERTISEMENT
Article continues below this ad
Paul vs Woodley 1
Tyron Woodley got involved in a backstage clash with Jake Paul before he faced Tyron's teammate Ben Askren on April 17, 2021, at the Mercedes-Benz Stadium in Atlanta. The youngster ridiculed Woodley's lack of boxing knowledge and the outcome of Paul's fight against Woodley's long–time teammate Ben Askren was discussed. After the battle, "The Chosen One" didn't waste any time in challenging the Youtube sensation to a boxing match.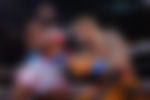 The rivals met earlier this year and fought on August 29th, 2021. Paul improved to 4-0 as a professional boxer with a victory against former UFC champion Tyron Woodley in Cleveland. Woodley is the first to take Paul past the second round, but he was defeated by a split decision. One judge scored the bout 77–75 for Woodley, while the other two judges scored it 78–74 for Paul.
Tyron Woodley got the 'I Love Jake Paul'.
After the fight, Paul stated that he would agree to a rematch with the welterweight title provided Tyron gets a tattoo that says "I Love Jake Paul."
On Monday, the former UFC welterweight champion shared his new "I love Jake Paul" tattoo. He posted it on his Instagram, the words were inked on his middle finger.
According to Woodley, artist Rubia Santana inked the tattoo.
Is Tyron Woodley's tattoo fake?
Tyron Woodley made headlines after revealing his 'I Love Jake Paul' tattoo on social media. However, many people believe Woodley didn't really get the tattoo done permanently, instead he just drew it using a pen. UFC fighter Dan Hardy agrees.
ADVERTISEMENT
Article continues below this ad
If we look closely at the tattoo, we can see that the words "I._____ Jake Paul" are inked in a different font, and so is the word "LOVE."
The ink thickness appears to be different as well, and it is probable that Woodley did not really tattoo the word "love," but he surely did ink the rest of the tattoo. Tyron later shared a video of him being inked in response to the fans and Dan Hardy.
ADVERTISEMENT
Article continues below this ad
The word "love" does not appear to be tattooed in the video shared by Woodley, but the other half of the tattoo appears to be inked. So, Dan Hardy and everyone else in the comments could be bang with their speculations.
What do you think? Will Woodley get to box Jake Paul for a second time? Let us know in the comments.