Francis Ngannou Confronts Jake Paul After Arrogant 'Easy Fight' Comments on LeBron James' Podcast: "So You Won't Fight Me?"
Published 05/05/2022, 7:38 AM EDT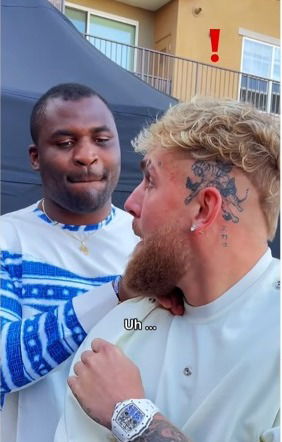 Jake Paul is no longer just an internet sensation. The 25-year-old has immersed himself into the world of boxing and often dabbles with UFC fighters. In his pro boxing career, he has already faced two former MMA champions and beaten them handsomely. While he may have been able to best 'Funky' and 'The Chosen One', his recent call out to face UFC heavyweight champion Francis Ngannou fell flat as 'The Predator' was lurking.
ADVERTISEMENT
Article continues below this ad
Being at the top of the heavyweight division earns you a special moniker of 'Baddest Man on the Planet'. And Ngannou's reputation and ungodly one-punch KO power precede him quite well. The UFC Champion has a finish rate of over 90%, finishing all but one opponent that he faced in his career. With a gigantic frame of 6'4 and over 250 lbs weight, this isn't an opponent anyone would like to face.
ADVERTISEMENT
Article continues below this ad
In a viral Instagram post of the popular podcast, TheShop, both Jake Paul and Francis Ngannou (17-3-0) were spotted shooting a hilarious skit for the fans. Paul was quizzed about facing any celebrity and he immediately retorted with, " I mean, I have been having my eye on Francis Ngannou. I think probably that would probably be an easy match-up."
Ngannou, who was right around the corner, heard the pro boxer calling him out. Paul immediately changed tunes and suggested that they were simply talking about 'who does he love?'. However, 'The Predator' took a cheeky dig at 'The Problem Child' by asking him a question of his own." So you won't fight me?" leaving Paul to respond with a simple answer 'No'.
 

View this post on Instagram

 
The mega episode is already carrying massive hype. Even NBA legend LeBron James shared the teaser on his Instagram story.
ADVERTISEMENT
Article continues below this ad
Francis Ngannou is gunning for a fight with Tyson Fury
The African world champion has fought out his contract with the UFC at this time. With his last contractual bout taking place at UFC 270, he is currently hoping to make a jump to boxing. 'The Predator' has already made an appearance at Tyson Fury's (32-0-1) fight, which has further escalated the possibility of this clash.
Watch this story: UFC 274: Date, Time, Venue, Tickets, and LiveStream
ADVERTISEMENT
Article continues below this ad
It is not known how things will work out between the promotion and Ngannou, as the 35-year-old mixed martial artist is still recuperating from an injury. The unbeaten boxer has also taken an interest in this super fight as he hopes to make it a reality in the future.
Do you wish to see this epic clash of the titans? What did you make of Paul and Ngannou's interaction? Share your thoughts below.