"Logan Paul Still Hasn't Got Paid for Floyd Mayweather"- Joe Rogan Praises UFC's Fighter Pay Amidst Increasing Pay Disparity With Boxing
Published 05/01/2022, 2:32 PM EDT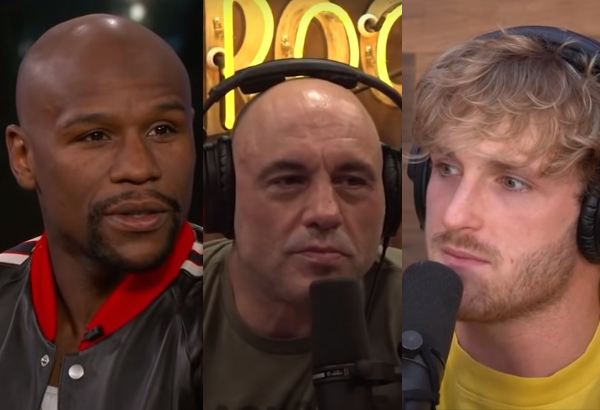 Record-breaking podcaster and longtime UFC commentator Joe Rogan recently had BJ Penn on his podcast. He and the MMA legend shared a curious observation around the sport of boxing that might break the myth of the huge payday.
ADVERTISEMENT
Article continues below this ad
On JRE MMA #123, the former UFC lightweight & welterweight champion B. J. Penn stumbled upon fighter's pay. This happened after Rogan told Penn about the shady practices that small promotions follow. Rogan narrated an account of UFC fighter Bobby Green, who told him that fighters have to sell a definite number of tickets to get their hands on money after their fight.
ADVERTISEMENT
Article continues below this ad
After listening to it, Penn reminded Rogan of why the UFC is respected in this regard as they always pay their fighter no matter what. "That's why we gotta love the UFC. You may not like what you got paid, but you got your money," Penn said. "You never gonna say that you didn't get your money. They always give you your money."
Then Rogan quoted a boxing coach he met a while back and explained the situation with boxing and the pay that fighters get. The catch was that Rogan was actually disappointed with how boxers are paid and how they have to get into lawsuits to get their money. He gave an example of Mayweather and Logan Paul.
"Listen, you need to understand that the amount of people that get that big payday is very small," Rogan said.
"And you need to understand that a lot of these guys. They get into lawsuits like right now, Logan Paul still hasn't got paid for Floyd Mayweather. Mike Tyson had some real issue about his money. Roy Jones Jr. had some serious issues about his money."
Joe Rogan wants Francis Ngannou to get that big boxing payday
Contrary to what Rogan told Penn, the UFC commentator wants UFC heavyweight champion Francis Ngannou to get good money in his dream fight against boxing legend Tyson Fury.
ADVERTISEMENT
Article continues below this ad
The Cameroonian champion was reportedly paid $600,000 for his first title defense against Ciryl Gane. Ngannou was not happy with it, hence he wanted to venture into boxing to prove that he is a great fighter and make good money as well.
Rogan supported the 'Predator' wholeheartedly and said that he wants to see Ngannou box. He wants it so that the champion can get a "giant chunk of money."
ADVERTISEMENT
Article continues below this ad
WATCH THIS STORY- Conor McGregor's Super Human Transformation After the Horrific Injury at UFC 264
What are your thoughts on fighter pay in MMA and boxing? Let us know in the comments below.