"That's Pretty Drastic" : Mike Tyson Deplores Conor McGregor's 2018 Bus Attack
Published 08/10/2021, 6:25 PM EDT
---
---
On the latest Hotboxin' podcast, 55-year-old boxing icon Mike Tyson and Henry Cejudo chopped it up with Khabib Nurmagomedov. This was a huge episode as fans have never really heard 'The Eagle' talk at length about his experiences and his growth in the sport. In a matter of days, it has racked up over 2.5 million views. It is now already the most viewed episode on the Hotboxin' podcast YouTube channel.
ADVERTISEMENT
Article continues below this ad
The trio talked about the undefeated former lightweight champion's rise in the sport, his father's influence on his career, and even his extreme rivalry with the 33-year-old old Irishman. Khabib talked about how he looks up to 'The Baddest Man on the Planet' and Muhammad Ali. He also asked Tyson about his infamous loss against 'Buster' Douglas in 1990.
ADVERTISEMENT
Article continues below this ad
They also talked about the infamous '2018 Brooklyn Bus Attack' incident. Prior to UFC 229, Conor McGregor threw a steel dolly through a bus carrying Khabib Nurmagomedov other athletes like Michael Chiesa and Rose Namajunas. 'The Notorious' later explained that he did it as a reaction to Khabib slapping his teammate, Artem Lobov.
When asked about his thoughts on the incident, Mike Tyson said that the Irish superstar might have stepped over the line. He pointed out that he could have seriously injured people inside the bus. 'The Eagle' added that Conor McGregor's steel Dolly hurt multiple athletes.
"That's pretty drastic. Yeah, someone can get hurt real bad," said Mike Tyson.
When Conor McGregor channelized his inner Mike Tyson
The rivalry and the bad blood betweeen Conor McGregor and Khabib Nurmagomedov is far from over. Their UFC 229 fight ended with 'The Eagle' jumping out of the cage and storming his way into McGregor's corner after choking him out inside the octagon. This rivalry is one for the books and it is still the biggest UFC pay-per-view event.
On the Hotboxin' podcast, Khabib reacted to the Irishman's recent "evil" tweets about his father's death by saying that he has surrounded himself with a bunch of yes-men and has traded out people who actually added value. Conor McGregor immediately clapped back at his long-time opponent on Twitter in typical Mike Tyson fashion by using his iconic "I wanna eat his children" statement.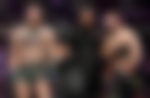 ADVERTISEMENT
Article continues below this ad
"I wanna eat his children!!!! When's the last time he's even seen them actually? His wife ? Mother? How bout you go spend some time with your kids and family for a change and keep my name out of your mouth b4 you get trapped somewhere again you mightn't be so lucky next time," tweeted Conor McGregor.
With Khabib retiring from the sport, it seems like this is yet another rivalry that will never truly be resolved. However, a second fight between the two would be massive and it would break all records. Do you think there is the slightest silver lining to a rematch between these two?
ADVERTISEMENT
Article continues below this ad