'This Kid Punched the Sh*t Out of Ben' – Daniel Cormier Reacts to Jake Paul Knocking Out Ben Askren
Published 04/18/2021, 5:45 AM EDT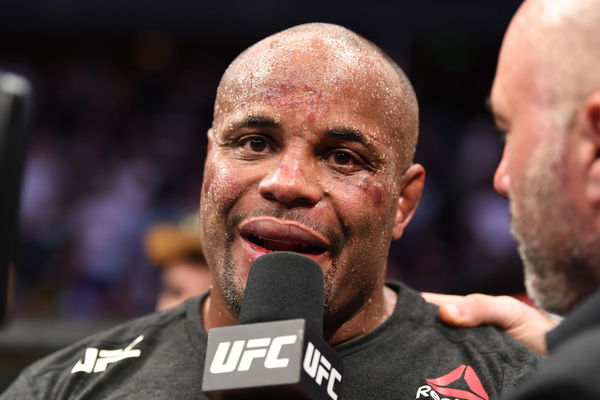 ---
---
The Jake Paul vs Ben Askren fight was one of the grandest combat sports events of the year. Some people even believed that the fight represented a match between boxing and MMA.
ADVERTISEMENT
Article continues below this ad
Everything from the buildup, to the official press conferences, and the banter between the two fighters, was enough to build up everyone's excitement. However, the match did not quite live up to the expectation as Ben Askren suffered a first-round KO at the hands of Jake Paul.
In the aftermath of the shocker, fans and critics from all around the globe reacted to the same. UFC legend Daniel Cormier was amongst them as he posted a video of him and his son reacting to the KO.
ADVERTISEMENT
Article continues below this ad
While reacting to the same 'DC' said, "Oh my God, this kid punched the sh*t out of Ben man. Come on Ben, you let that boy do you like that. Come on Ben, Somebody gotta do something about this Jake Paul man."
Leading up to the fight, many MMA fighters believed that even though Askren could lose, Jake Paul was still no professional boxer. However, after the fight, Cormier seemed to have changed his opinion a bit.
He said, "Well, guess he gets to pretend to be a fighter for a little while longer. They gonna have to give him someone real now. He gonna have to fight somebody real; I mean, the dude actually can box a little bit. He kept popping Ben, and he kept stumbling over and over again."
What did Daniel Cormier think of the fight?
The fight was always touted as an entertainment gig rather than a serious combat sports match. And even though Cormier believes Paul can box a little, he still thinks all of this was not a serious affair.
ADVERTISEMENT
Article continues below this ad
'DC' added, "I mean now he is doing jumping push-ups and everything, Come on man this is crazy. This gotta be the craziest sh*t I've seen in my life, man. This dude right here."
Fights between professional combat sports athletes and celebrities turned athletes are getting popular by the day. This was one such event, and whether the quality of boxing in the fight was great or not, it surely was an entertaining event to watch.
ADVERTISEMENT
Article continues below this ad