VIDEO: Chaos Erupts As Jake Paul Advances on Tyron Woodley at the Final Face-off
Published 08/28/2021, 9:33 PM EDT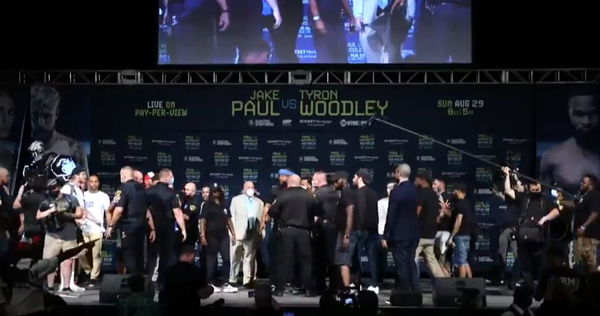 ---
---
Jake Paul vs Tyron Woodley is finally upon us and the final face-off managed to deliver in a massive way. The disdain between the two athletes is palpable and now it's just a matter of time before they settle their score. Chiefly, the final stare-down certainly didn't do anything to dissipate their rivalry as both men nearly came to blow.
ADVERTISEMENT
Article continues below this ad
As 'The Problem Child' was talking to BT Sports' Ariel Helwani, he began to grow aggravated at Woodley who was advancing position. In a preemptive move, Paul struck first and laid his hands on Woodley at the face-off. Both teams immediately tussled, however, the situation slowly quietened down as the headliners were escorted off stage.
ADVERTISEMENT
Article continues below this ad
The near-brawl signifies the amount of disdain that both men possess for each other. As it stands, they have both jabbed at each other verbally, however, things are now escalating before the fight takes place. It will be interesting to see if the aforementioned events have an adverse effect on the outcome of the fight.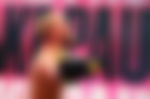 Momma Woodley is involved in the feud
The turning point of the feud came about in the final days leading up to the fight as Jake Paul's entourage insulted Tyron Woodley's mom. While the exact statements are up for interpretation, the incident left a sour taste in everyone's mouth. In fact, Tyron Woodley was as animated as he's ever been and he was ready to throw down on sight.
ADVERTISEMENT
Article continues below this ad
However, cooler heads prevailed, and the incident was laid to rest in short order. With all the complications now put to bed, the only thing that remains is the fight itself. Fans are curious to see how the bout will play out as the overarching narrative is interesting on paper.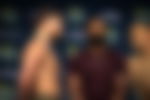 ADVERTISEMENT
Article continues below this ad
Tyron Woodley will step into the ring without any formal boxing and he's taking on a fighter who has a chip on his shoulder. What's more, Jake Paul out-sizes Tyron Woodley by a significant margin and he'll more or less be able to impose his will. However, Woodley's status as a former five-time UFC champion goes a long way in legitimizing his status.
Read this story: Top 5 Biggest Rivalries in the History of the UFC