VIDEO: "Mike Tyson" Giving Khabib a Pep Talk Ahead of His Championship Fight as the UFC Star Laughs It Off
Published 12/07/2022, 12:45 PM EST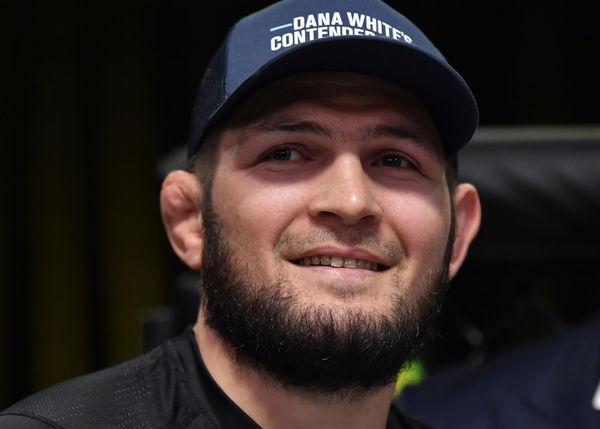 Khabib Nurmagomedov is one of the best fighters that the UFC has ever had. 'The Eagle' has looked up to the likes of Mike Tyson and Muhammad Ali, when it comes to achieving greatness, not just in the sport, but in life, too. Considering how 'Iron' Mike motivates 'The Eagle', the former UFC champion, Rashad Evans once gave 'The Eagle' a pep talk ahead of his title fight, impersonating Tyson. That is correct. Evans channeled his inner Mike Tyson while passing on some 'Iron' Mike motivation to Khabib.
Evans certainly managed to give Khabib some giggles with his Mike Tyson impression.
ADVERTISEMENT
Article continues below this ad
Rashad Evans turned into Iron Mike for Khabib
The UFC Hall of Famer Rashad 'Suga' Evans recently posted an old video on his social media where he can be seen motivating Khabib Nurmagomedov ahead of his title fight, in his 'personal hero', Mike Tyson style. Evans wrote on the post that his imitating 'Iron' Mike is out of pure "love and admiration"
Evans wrote, "Giving @TeamKhabib a pep talk as @MikeTyson . 😂 Iron Mike is a personal hero of mine so this impression is done with all the love and admiration." Both Khabib and Evans share the same respect and admiration for the boxing legend and the latter thought it would be the best way to motivate 'The Eagle' as he approaches the title shot.
In the video, 'Suga' says, "Firstly, I want to say congratulations for getting the title shot. Second of all, you know, a title shot is just another fight. You can't go there in thinking that this has to be any different than any other fight that you've done before. Just go in there, be the same methodical, hard pressure, hard nose Khabib that you've always been."
On the other hand, Khabib bursts out laughing as he watches Rashad Evans imitate Mike Tyson.
When The Eagle met Iron Mike
ADVERTISEMENT
Article continues below this ad
Khabib Nurmagomedov looks up to Mike Tyson as his idol since he was a kid. From watching him on television to fighting in front of him, it has been a surreal journey for 'The Eagle'. In an interview, Khabib expressed his admiration for the boxing legend and the influence he had on him.
Talking about Mike Tyson, 'The Eagle' said, "Last time I was Vegas, I meet with him inside his house, he invite me. I am, you know, big fan. Like, Mike Tyson, Muhammad Ali. And I wanna be greatest like these guys, Not only inside the cage, outside too." 
ADVERTISEMENT
Article continues below this ad
Watch this story: Top 5 Records Held By Khabib Nurmagomedov In The UFC
Do you think Khabib's admiration for the legendary boxer Mike Tyson has helped him achieve the level of success he sought?