Why Paige VanZant Will Fail in Bare Knuckle Fighting Championship
Published 12/25/2020, 3:30 PM EST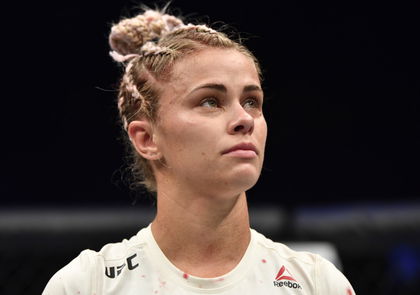 ---
---
The departure of Paige VanZant from the UFC and subsequent signing with the BKFC showed the power that fighters have over their future. Despite bagging what is, reportedly, a multi-million dollar deal with Bare Knuckle Fighting Championship, VanZant doesn't have the best of chances of doing good in the promotion.
ADVERTISEMENT
Article continues below this ad
A bold VanZant was vocal about testing face agency even ahead of her last fight at UFC 251. She showed a sense of trust in her own brand, which is big enough for any fighter with a record of that of the former UFC flyweight. A major presence on Instagram, VanZant has dipped her toes into reality television as well as writing. All this has helped her stand out from her contemporaries.
ADVERTISEMENT
Article continues below this ad
However, despite her success outside the ring or Octagon, it is what she does inside of it that will determine how her professional fighting career shapes up. In this regard, VanZant's chances of success in the BKFC look a bit bleak.
Did Paige VanZant sign with the BKFC for the right reasons?
When '12 Gauge' fought out her UFC contract, she was hands down the biggest free agent for a short period. There were speculations about her joining Bellator MMA, the same promotion where her husband Austin Vanderford fights at welterweight. However, BKFC came out of nowhere and snatched VanZant away.
Despite the multi-million deal that she signed, VanZant argued that she had her own reasons for choosing the promotion. She opined that she wanted to break the stigma of being just a pretty face. However, this argument seems flawed right to the core.
Anyone who steps inside the UFC Octagon has a level of fighting caliber that is levels above the average. This is true for VanZant as well. She has shown her toughness time and again during her run in the UFC. Her bloodied up face during the fight with Rose Namajunas is an example of the same. In her fight against Jessica Rose Clark, she went full three rounds despite breaking her arm in the first.
All these instances are proof that VanZant has continued to pull through in situations where someone who is 'just a pretty face' would've given up. If the fans think that way about her, it is up to them and not her. While the thrill that comes in a bare fist fight can be thought of as one of the reasons, VanZant's argument still seems a bit off the mark.
VanZant has never relied heavily on boxing during the stint in the UFC
During her time in the UFC, VanZant had her share of ups and downs. Despite the outcome of her fights, VanZant wasn't someone who banked too much upon pure boxing. Not that she was bad at it, it was more like she was more well-rounded to rely on a particular domain of fighting.
Her two knockout wins in the UFC, against Kailin Curran and Bec Rawlings, came via efficient use of leg kicks, trips, and her work in the clinch, not out of boxing combinations. While VanZant is toiling hard to improve her boxing at American Top Team, there is simply no evidence to back her in a bare-knuckle fight.
ADVERTISEMENT
Article continues below this ad
Incidentally, Rawlings, whom VanZant knocked out in the UFC, fought in the BKFC as well. A few days back, Rawlings predicted that VanZant wouldn't even last a round in BKFC. She claimed that the former 'Dancing with the Stars' contestant was naïve and speculated that it'll take one fight to realize that bare-knuckle fighting isn't for her.
Despite what happens when VanZant steps inside the ring, it is certain that the viewership of the promotion will spike with her arrival, something that the promotion has been waiting for since the fight between Paulie Malignaggi and Artem Lobov.
ADVERTISEMENT
Article continues below this ad