Dana White Sponsored Super Welterweight Boxer Callum Walsh Gets 2 Wins in 2 Nights Earning $5,000 Even Before Stepping Inside the Ring
Published 03/18/2023, 1:04 AM EDT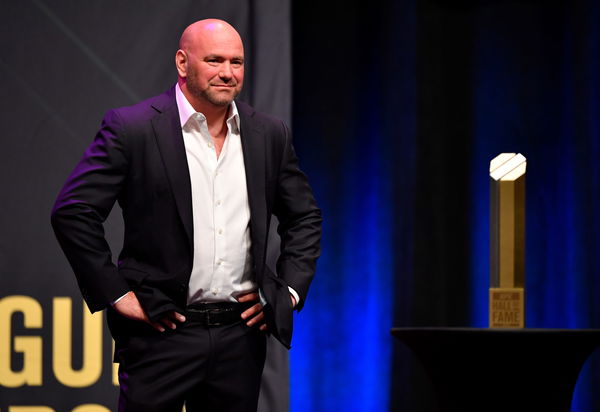 Dana White has a lot of talent. He has a very sharp understanding of the sports and entertainment business. He also possesses a keen eye for recognizing fighters. A find of his is now making some ripples in the boxing world. The Irishman won a lot of accolades and $5000 when he displayed his punching prowess and defeated a 6 feet 5 inches NFL star. Callum 'King' Walsh has also extended his boxing record to 6-0 following up on his prize money win and Dana White must be proud. Dana White and boxing legend Freddie Roach manage the Irish lad.
 

View this post on Instagram

 
ADVERTISEMENT
Article continues below this ad
In a video shared by UFC on Instagram, Callum Walsh explains the challenge where his punch power score of 977 is to be beaten. Whoever breaks the bar gets $5000 from Dana White. if nobody breaks the record, the amount stays with Callum Walsh.
Callum Walsh wins $5000 prize money before getting in the ring
In the video, Callum Walsh is heard saying, "Many competitors tried their hands. Some reached close too but nobody could better Walsh's score." People then noticed Las Vegas Raiders player Maxx Crosby in the arena. The 6 foot 5 inches tall, 260 lbs heavy defensive player took his shot but failed to top Walsh's record.
ADVERTISEMENT
Article continues below this ad
Thus, Callum Walsh claimed the Prize money. To follow it up, Callum Walsh won his sixth bout in boxing defeating Wesley Tucker. Wesley Tucker has a 15-5 win-loss record. He came out strong initially, but was soon plundered by Callum Walsh. In the second round, Wesley was floored twice and the Dana White-backed Irish claimed his 6th consecutive victory.
Callum Walsh is undefeated in his boxing career
Walsh added another 'W' to his record when he knocked out Wesley Tucker at the Hollywood Fight Night. The fighter is sponsored by Dana White and is managed by highly-rated trainer Freddie Roach. Walsh made his pro-debut in 2021 and fought 4 times in 2022. His performances will only strengthen Dana White's trust in his abilities. Fans will hope that the Irish keeps getting better. With solid backing from stalwarts like Dana White and Freddie Roach, fans will expect Walsh to do some great things in the coming future.
ADVERTISEMENT
Article continues below this ad
For now, UFC president Dana White will feel that he has placed his bets on the correct horse. What's your take on Callum Walsh and his boxing career? Do you think the Irish have the potential to be a champion? Let us know in the comments
Watch This Story: You Fuc**d over guys for a long long time Dana White slammed for 1993 pay in 2023