"I Don't Know Why I Became a Fighter" – Khabib Nurmagomedov Says His Love Was for Another Sport
Published 10/08/2021, 8:50 AM EDT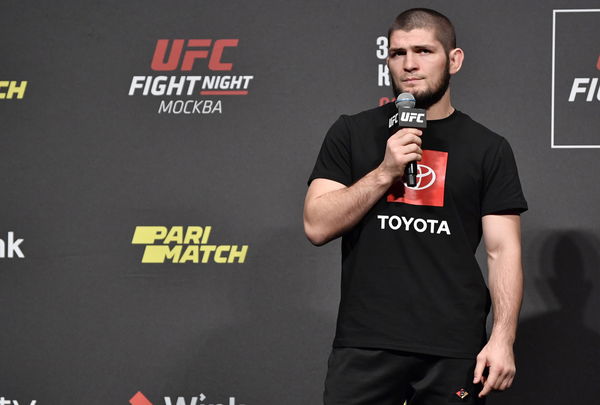 ---
---
Former UFC lightweight champion Khabib Nurmagomedov made quite a name for himself in the world while fighting in the UFC.
ADVERTISEMENT
Article continues below this ad
Khabib is one of the most popular sports stars in the world. Now retired, 'The Eagle,' known for his grappling and ground game, was one of the world's most dominant mixed martial artists. He remained undefeated throughout his MMA career and finished with a 29-0 record. His last fight was against Justin Gaethje. He won the contest via submission in the second round and announced his retirement from the sport.
However, growing up, Khabib loved football. And even now, according to him, football is the best sport in the world.
ADVERTISEMENT
Article continues below this ad
In a recent interview, Khabib said, "I don't know why I became a fighter. When I was young, I really loved football. I remember when I was young, like 13-14, I can play by myself alone couple of hours of football. I was following everything like UEFA Champions League, World Cup, Premier League, Serie-A, La Liga, everything. For me, it is the best sport. For me, for myself, as a sport, football is on a different level."
According to Khabib, he fights only because he knows how to fight. Hailing from Dagestan, Russia, he says you have to fight a lot. In schools, gyms, streets, everywhere. Per 'The Eagle', if you want to be free in Dagestan, you have to fight. But for him, as a sport, football is the best.
Khabib Nurmagomedov and his love for football
Former UFC champion Khabib has been a football fan ever since he was young. He has never shied away from showing his love for the sport as well.
Khabib, on his recent trip to England, visited Old Trafford to watch Manchester United face Everton. Later on, he was seen at Anfield, watching Liverpool vs. Manchester United.
ADVERTISEMENT
Article continues below this ad
Watch This Story
Nurmagomedov is also a close friend of the five-time Ballon d'Or winner Cristiano Ronaldo. While visiting Old Trafford, Khabib and Cristiano even had a combat sports style, friendly face-off. The two superstars of their sports are known to share a close bond and have shared gifts in the past as well.
ADVERTISEMENT
Article continues below this ad
Khabib, in the future, is planning to start football academies. In an interview, he said, "End of this year, I'm going to open with Clarence Seedorf big football academies for young kids in Emirates, Abu Dhabi, Dubai, Morocco, Canada, Russia, and here in the UK."
Khabib is not just a fan of football but is also trying to give back to the sport, which is great to see.