"I'm Gonna Look to Knock You"- Derek Brunson Says Kevin Holland is Trying to Follow Israel Adesanya's Path
Published 03/19/2021, 4:51 PM EDT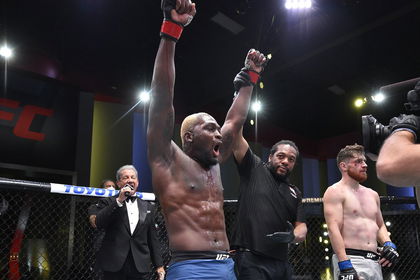 ---
---
With the UFC Fight Night inching closer, there is a lot of talk about the main event between Derek Brunson vs Kevin Holland.
ADVERTISEMENT
Article continues below this ad
Kevin Holland is on a hot 5 fight win streak and if he beats Brunson in this fight, he could become the next guy to challenge for the Middleweight title.
Brunson attended a UFC press conference where he was asked how 'Trailblazer' wants to make this fight personal? Derek Brunson replied, "Yeah, Holland would like to make it personal. He would like to follow the same thing Izzy did with the hype and it's funny he's using the exact same thing. He's calling me bum son.
ADVERTISEMENT
Article continues below this ad
"It's like bro, Izzy said the exact same thing. You are trying to do exactly what he did. So I haven't been engaging with him in that fact because I'm gonna fight the way that I've been fighting my previous couple of fights, you know. I'm gonna look to knock you out."
Israel Adesanya has already defeated Brunson at UFC 230. The fight between the two was very personal as both guys talked a lot of trash to one another. This trash talk turned the event into a must-watch fight for the fans.
Kevin Holland is exactly following the footsteps of Adesanya. He thinks this is the proper game plan to beat Derek Brunson.
Derek Brunson wants to fight Israel Adesanya if he beats Kevin Holland
Mental warfare always plays a big role leading up to the fight. A lot of fighters in the UFC had success while using it like Conor McGregor, Henry Cejudo, and more.
Derek Brunson also said, "My goal has always to get that title shot. You know and I haven't I've been right there but I haven't it's been twice you know if I would have won those fights.
ADVERTISEMENT
Article continues below this ad
"I would have got title shots." This was said after he was asked about his future plan if he gets a win over Holland.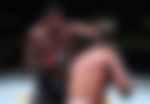 Brunson hopes to rematch Adesanya for the title with his new approach of not making the fight personal. He will get a chance to apply this on Kevin Holland. If he defeats Holland, then this could be the right mantra that will help him in beating the current champion, Israel Adesanya.
ADVERTISEMENT
Article continues below this ad