UFC Fans Lose Their Cool as 'Jose' Joe Rogan Is Spotted at World Baseball Classic Game
Published 03/19/2023, 7:17 AM EDT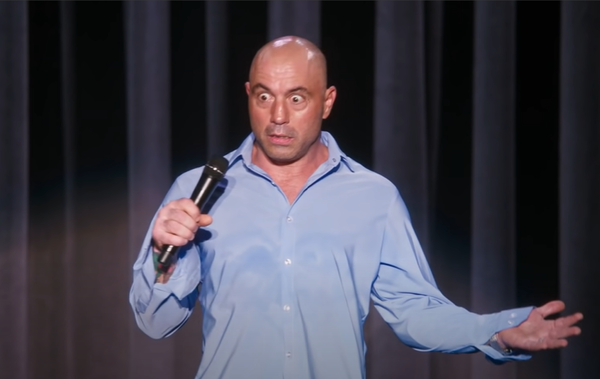 Joe Rogan has become a household name, arguably the biggest name in modern media. His popularity tends to move towards the uphill slope owing to his relentless pursuit of various endeavors. Moreover, he has amassed a substantial fan-following around the world who tag him in almost any social media post that they find remotely interesting, hoping that the 55-year-old may look up or talk about it on his incredibly successful podcast.
Recently, during a basketball game, a Joe Rogan look-alike was spotted among the audience members. This elicited a range of hilarious reactions from UFC fans, who put forth their best takes on this doppelgänger as the fans wasted no time in letting their opinions be heard, and they soon filled the comment section with a flurry of activity.
UFC world at its hilarious best over 'Joe Rogan'
ADVERTISEMENT
Article continues below this ad
During the recent World Baseball Classic game between Puerto Rico and Mexico, an MLB-driven Twitter page posted a picture of a spectator who bore a striking resemblance to the UFC commentator Joe Rogan. As soon as the picture caught the fans' attention, they rushed to the comment section, eager to put out their best takes on this audience member who is a spitting image of Rogan.
The caption itself was one hilarious take on it, which wrote, "Joe Rogan ain't slick".
Upon witnessing this, the fans came out swinging with their humorous and creative takes, comparing the spectator to everything from He-Man to one of The Stooges and more such similar remarks.
Check out some of the best takes on this by the UFC fans:
This fan points out the struggle 'Joe Rogan' has to face:
And we have an official fan-given name for this look-alike:
A rather musical take by this user:
That's JR? I thought it was one of The Stooges

— Monty the Grey (@Vmax7CWS) March 18, 2023
Brendan Schaub becomes a part of this ride, too:
Brendan Schaub Right behind him too😂😂😂

— Ryan Shepherd (@ryanbandit2020) March 19, 2023
The classic JRE dialogue finds its spot in this hysteria by this fan:
"Jamie, pull up cheap wigs expo."

— BRICKMAN! (@HeyBrickma) March 18, 2023
And this one fan draws parallels between the UFC commentator and He-Man:
Now that's one way to put it:
Woke Rogan 😂🤣😂🤣😂🤣😂🤣😂🤣😂🤣😂🤣😂🤣😂🤣😂🤣😂🤣😂🤣😂🤣😂🤣😂🤣😂🤣😂🤣😂🤣😂🤣😂🤣😂🤣😂🤣😂🤣😂🤣😂🤣😂🤣😂🤣😂🤣😂🤣😂🤣😂🤣😂🤣😂🤣😂🤣😂🤣😂🤣😂🤣😂🤣😂🤣😂🤣😂🤣😂🤣😂🤣😂🤣😂🤣😂🤣😂🤣😂🤣😂🤣😂🤣😂🤣😂🤣😂🤣😂🤣😂🤣😂🤣😂🤣😂🤣😂🤣😂🤣😂🤣😂🤣😂🤣😂🤣😂🤣😂🤣😂🤣 https://t.co/TohRAc9sLP

— soaking in all the bad takes (@jdbeacon) March 19, 2023
DMT-free Rogan would look like this, as per this one fan:
ADVERTISEMENT
Article continues below this ad
It's always amusing to see people resemble celebrities, and Joe Rogan's doppelgänger is no exception.
ADVERTISEMENT
Article continues below this ad
Whether it's a testament to Joe Rogan's popularity or simply a coincidence, one thing is for sure: the internet always finds a way to entertain itself.
Watch This Story: "He's a Beautiful Man… His Body Is Flawless!": Joe Rogan on 62-Year-Old Jean-Claude Van Damme's Insane Physical Attributes