"2 F**king Years for This?" – UFC Fans Bash Jon Jones for Having 'Flyweight' Legs Amidst Stipe Miocic Heavyweight Debut Fight Talks
Published 04/30/2022, 7:27 AM EDT

Follow Us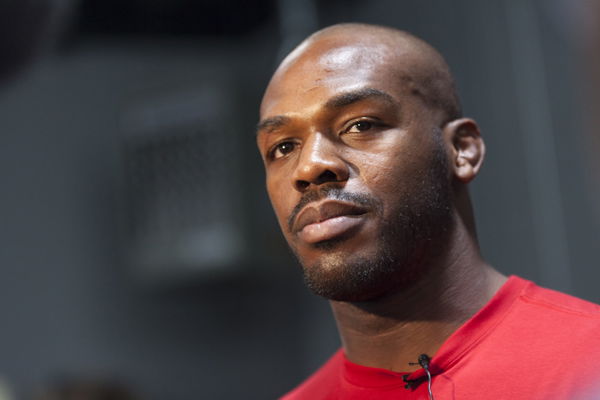 The greatest talent in UFC, Jon Jones, dominated the star-studded light heavyweight division. With a record 14 title fight wins, Jones already has a resume of an all-time great in UFC. However, he is still looking at the heavyweight division to find new challenges.
The former light heavyweight champion is packing muscles to build a frame that would not limit his speed at heavyweight, yet he would have the strength to compete with potential 265 lbs giants in the heavyweight division.
Recently, Jones posted a video of him training and donning the heavyweight frame.
However, a Twitter user posted a still from the video that focused on the thin legs of 'Bones.'
Fans react to Jones' skinning legs
Jones always had relatively thin legs for a light heavyweight fighter. Though many analysts, on numerous occasions, pointed out this fact, no fighter could capitalize on this potential weakness.
Fans were shocked to see that Jones has gotten into a heavyweight frame, yet his legs were comparatively thin.
One fan wondered, "Why do his legs not gain weight lmao. And how has he not had any leg injuries over the span of his career." 
Another fan suggested his legs look similar to a flyweight fighter.
Also, one fan had a tough time believing that this was an original pic.
Some fans were more animated than the others and gave their reactions to the skinny legs of Jon Jones.
Most of the fans believe Jones wouldn't have any issues as he has always fought with thinner legs yet has managed to stay away from opponents' low attacks.
Is Jon Jones fighting Stipe Miocic in September?
'Bones' relinquished the light heavyweight gold and took a break from fighting in order to have the muscles and strength of a legitimate UFC heavyweight.
After multiple talks of his debut fight at heavyweight, none of the fights came to fruition. However, this time around it appears with the absence of Francis Ngannou, Jones would finally accept a fight with the heavyweight GOAT, Stipe Miocic.
His social media suggests he is ready for the bout and will even oblige the firefighter's condition.
"Stipe is saying that he will be at his absolute peak in September. I'm disappointed but patient, I want the heavyweight goat at his absolute best. I'll wait until September. No excuses," Jones wrote on his Twitter.
WATCH THIS STORY–UFC News April 28, 2022: Francis Ngannou On UFC Contract Dispute; Alexander Gustafsson Set To Return And More
With Jones showing interest in this fight and Miocic already acknowledging he wants to fight Jones, could we finally see Jones vs. Miocic? Only time will tell.
Edited By: Vibhanshu Kumar