"20 Some Years, I Haven't Seen This" – Dana White Left Stunned by Audacious UFC 281 Scenes
Published 11/13/2022, 10:30 AM EST

Follow Us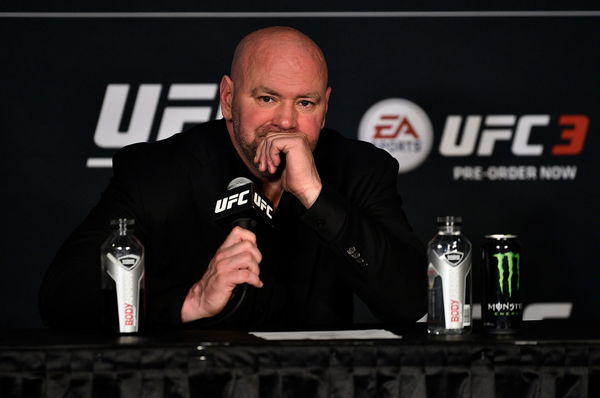 The UFC president, is a very camera-friendly and easygoing person despite his stature. The UFC 281 proved to be a major success for the company, gaining them huge viewership, which also came with a few undesired twists. The UFC boss went on to address one of them at the post-event press conference of UFC 281.
After the bout between Karolina Kowalkiewicz and Silvana Gomez Juarez, a major slip presented itself as the UFC ring announcer, Bruce Buffer was made to wait before announcing the official decision.
ADVERTISEMENT
Article continues below this ad
Karolina Kowalkiewicz looked impressive from the beginning
Kowalkiewicz was the first one to land a significant strike. Although Juarez started the fight trying to throw a few strikes but she was taken down by Kowalkiewicz after about a minute. However, Kowalkiewicz failed to transition it into a rear naked choke. But, her ground game was too much for Juarez to handle. Most of the round was dominated by Kowalkiewicz on the ground.
The second round was quite evenly matched as both exchanged and landed a few shots. It would have been hard for the judges to score this round.
Juarez started the third round strong as she landed a few good strikes. But, eventually, Kowalkiewicz took her down once again although she got back up. A series of knees from Juarez followed right after the takedown.
But, confusion occurred with the scorecards during the announcement of the official decision. An NYSAC (New York State Athletic Commissioner) had to enter the Octagon to sort things out and finally declare Kowalkiewicz as the victor via unanimous decision.
Dana White answered the press about this confusion
Following the event, The UFC boss, Dana White talked to the press regarding this mishap. A reporter asked, "Did you get the information about what happened with the decision there? With all the changing of the scores in the card and".
White replied, "Oh no, yeah, I forgot about that actually.". Even the UFC president was in shock to see such a mishap. He threw a question in return to the reporter, "Have you ever seen anything like that?"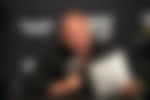 The reporter answered, "Never". Both the UFC boss and the reporter stood at the same juncture at this time.
Watch this Story – Joe Rogan, Conor McGregor, Dana White – A peek inside the luxurious mansions of the UFC personalities
White further iterated, "I don't know what happened, man. I was like 20 some years I haven't seen this." He evidently implied that this was the first ever score related confusion White had seen in his entire presidential tenure in the UFC.
Do you remember of any such mishap in the UFC? It will be probably hard to name one since even the boss, Dana White hinted this was the first mistake of its kind.   
ADVERTISEMENT
Article continues below this ad
ADVERTISEMENT
Article continues below this ad
Edited By: Vineet Nandwana