5 Times Conor McGregor Made Controversies With Trash Talk to His Opponents
Published 07/29/2021, 9:39 AM EDT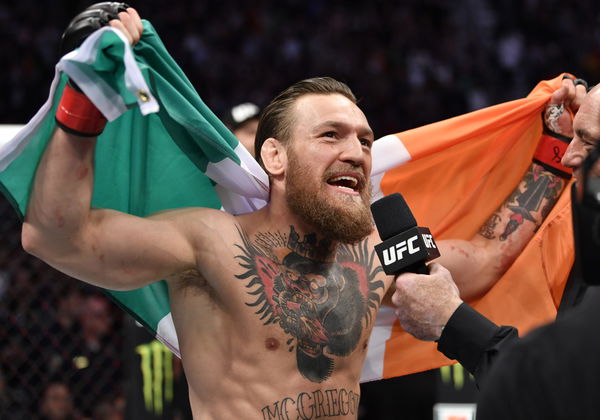 ---
---
Conor McGregor is inarguably the biggest MMA star ever. Across the globe, people know 'Notorious' for his in-ring ability and his antics outside. McGregor is one of the best trash talkers in the world and uses it to get under the skin of his opponents.
ADVERTISEMENT
Article continues below this ad
However, as evident from the UFC 264 post-fight interview, McGregor sometimes tends to take it a bit too far. During the interview, McGregor went after Poirier's wife and even threatened to kill him. This did not go down well with many fighters and fans who thought McGregor was out of line.
There are plenty of other instances when people believe McGregor's comments created controversy. Lets us take a look at 5 of such instances.
ADVERTISEMENT
Article continues below this ad
Calling Dennis Siver a 'Nazi'
Conor McGregor was on his way to UFC superstardom when he faced Dennis Siver at UFC Fight Night 59. However, during the pre-fight build-up, McGregor tweeted 'Kiss them feet Nazi' which created a lot of controversies.
While McGregor quickly deleted the tweet and apologized for it and wrote, "Ich bin in sowwy. Now about them feet." Calling somebody a Nazi is unacceptable and is not trash-talking but just insensible behavior on the part of the fighter.
Many people were not even satisfied with McGregor's apology as he wrote 'Sowwy', which meant to many that he was not really 'Sowwy.'
Conor McGregor threatens Jose Aldo
Conor McGregor faced Jose Aldo at UFC 194 and defeated him in 13 seconds via TKO. During the build-up to the fight, both fighters took various digs and each other. McGregor took it one step further in one such instance as he took a very personal shot at Aldo.
McGregor said, " For him to say he's the king and I'm the joker if this was a different time I would invade his favela on horseback and kill anyone that is not fit to walk. But we are in a new time, So I'll just whoop his a*s"
This comment clearly upset 'Junior Mac' as he comes from poverty in Manaus, Brazil. MMA changed his and his family's life, therefore as McGregor made these comments, he clearly got under his opponents' skin and defeated him via KO.
The Nate Diaz 'Cholo' Jibe
Nate Diaz and Conor McGregor faced each other twice and have never shied away from taking shots at each other. Therefore, during the build-up towards their first fight at UFC 196, both fighters took various digs at each other. One such incident was when McGregor called Diaz 'little cholo gangsta.'
Watch This Story: 5 World Champion Boxers Who Are Competing In Tokyo Olympics (2020-2021)
'Cholo' is a racially charged pejorative that means a Mexican of low-class or criminal background. This is something that did not go down well with anyone, and various sections of the society called 'Notorious' out for the same.
Homophobic Slur against Andre Fili
In October 2017, McGregor's good friend and teammate Artem Lobov faced Andre Fili at UFC Fight Night 118. As Lobov ended up losing the fight, McGregor could not control his emotions, and called his opponent "fa**ot."
However, McGregor apologized for the same as he held his hands up and issued an apology. 'Notorious' said, "I'm human; I slip up. I say stupid things every damn day. All I can do is hold my hand up and apologize if anyone was offended."
Conor McGregor takes shots at Dustin Poirier's wife post-UFC 264
During the build-up towards their trilogy fight at UFC 264, McGregor and Poirier were constantly taking digs at each other with McGregor leading the way. 'Notorious' also took constant shots at Poirier's wife and even threatened to kill Poirier post the fight.
The fight happened and Poirier won the fight via a first-round TKO. Then it was Conor McGregor's post-fight interview that caused all the controversy. During his convention with Joe Rogan, McGregor said, "Your wife, is in my DM's. Hey baby, hit me back up on chat later on. We'll be at the after-party, the Wynn nightclub, baby. You little h**, F**k him. "
ADVERTISEMENT
Article continues below this ad
Conor McGregor is known for his trash-talking ability, however, he sometimes tends to make remarks that are controversial. What are your thoughts on these incidents? Was Conor McGregor right in saying these things? Let us know in the comments below.
ADVERTISEMENT
Article continues below this ad