"A Real Classic Bad Moth****er" – Conor McGregor Impressed With Ariel Helwani's Video of Chael Sonnen Trash Talking
Published 09/25/2022, 7:47 AM EDT

Follow Us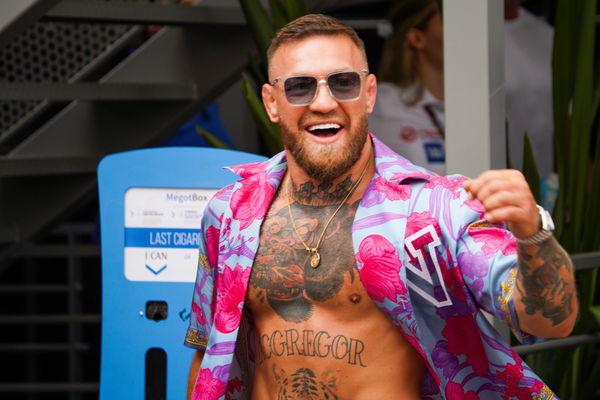 Conor McGregor is inarguably the brightest star of the UFC. His awesome striking and decimating trash talks have earned him the humongous stature that he has in the sport today. Besides his phenomenal octagon persona, 'Mystic Mac' has an enormous following on social media.
The former UFC champion definitely has some 'Twitter fingers' as he keeps posting and replying to people on various social media platforms. Such an instance came up when 'The Notorious One', replied to one of Ariel Helwani's tweets.
ADVERTISEMENT
Article continues below this ad
A clip of Chael Sonnen's classic trash-talk got a reply from Conor McGregor
In the video, Helwani interviewed Chael Sonnen ahead of one of his bouts against Anderson Silva. Upon being asked how the fight might go, the challenger replied, "It'll be a verbal beating. Anderson Silva will be in tears before it's all over." It was evident why Chael Sonnen was considered one of the best trash talkers in the UFC.
😂😂 a real classic bad motherfcuker is Chael P. Gotta give it to him.

— Conor McGregor (@TheNotoriousMMA) September 25, 2022
This tweet from Helwani caught McGregor's attention, as we all know he stands above all when it comes to trash talking.
READ MORE – Sebastian Vettel Tells the Whole Truth on Champion's Return to Red Bull During F1 Career
'The Notorious One' replied to Helwani, "a real classic bad moth******er is Chael P. Gotta give it to him." It was apparent that McGregor couldn't help liking Sonnen's trash-talking.
What the fans had to say about Ariel Helwani's tweet?
Both Helwani and McGregor received a lot of replies for their tweets, although there were some who replied to only one of them. A Twitter user claimed the journalist was excited when McGregor replied to his tweet. His words themselves were proof of the stature that 'The Notorious' holds in this sport.
Ariel is the most excited when Conor responds to his tweet. Probably most MMA people actually.

— Arii D2 (@GrayAriia) September 25, 2022
Another fan thought that although Sonnen was a good trash talker, McGregor will take the cup when it came to trash talking. The user also posted a video of McGregor's blistering trash talk.
ADVERTISEMENT
Article continues below this ad
MMA fans all over the world know that 'trash-talking' is one of the prime characteristics of this sport. It attracts a lot more people, thereby increasing its followers.
Watch this Story – Five things you might have missed in the Jake Paul vs. Tyron Woodley MVP face to face interview with Ariel Helwani
ADVERTISEMENT
Article continues below this ad
Although liking or disliking 'trash-talks' is entirely up to each individual person, it can't be denied that 'trash-talking' has helped MMA gain popularity over the years.
Which type of fighters do you like? The 'Humble' ones or the 'Trash-talking' ones?
Edited By: Reubyn Coutinho