Alistair Overeem Ranks His UFC Debut Against Brock Lesnar Higher Than That of Michael Chandler
Published 02/05/2021, 1:26 PM EST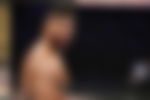 ---
---
Alistair Overeem has been in the UFC for over nine years. The Dutch kickboxer entered the promotion with an impactful win over Brock Lesnar. However, Michael Chandler's win over Dan Hooker is now being considered by many as the best UFC debut ever. But, Overeem believes his win over Lesnar was undoubtedly the better UFC debut.
ADVERTISEMENT
Article continues below this ad
When Overeem went against Lesnar, the latter was a massive draw and a former UFC champion. 'The Demolition Man', meanwhile, had won belts in Strikeforce, K-1, and DREAM. He tore through Lesnar before ending the fight with a vicious leg kick. Following the loss, Lesnar went back to the WWE.
On the other hand, Chandler also knocked out Hooker in the first round at UFC 257. He would go on to cut a scintillating promo, which hinted that he has the potential to be a big draw soon. Despite all this, Overeem ranks his debut higher than that of the former Bellator champ.
ADVERTISEMENT
Article continues below this ad
ABSOLUTE GIANTS! 🤯

Re-watch when @AlistairOvereem debuted against Brock Lesnar. #UFCFL pic.twitter.com/rUcwf3ucSY

— UFC (@ufc) May 15, 2020
"Definitely better than Michael Chandler," Overeem said at the virtual media day ahead of his fight against Alexander Volkov this weekend. "All respect to Michael and his performance, but I don't think you can even compare those two fights," he added.
"Alistair vs. Brock Lesnar in 2011, or Michael Chandler vs. Dan Hooker. I don't think you can make a comparison between those two."
Alistair Overeem happy with the calmness in his life
A veteran of the fight game, Overeem has fought almost all major names in the heavyweight division over the past two decades. At his peak, his reign stretched over three continents and two sports. Hence, wherever he went, fans wouldn't allow him to be by himself.
"I remember everything very clear," Overeem said. "There was a lot of things going on. It was crazy. I came off the [Fabricio] Werdum win and then before that the K-1 Grand Prix win and the DREAM title win."
ADVERTISEMENT
Article continues below this ad
Ten years removed from that time and a lot has changed for Overeem. He has had his share of ups and downs in the UFC. Although he couldn't get his hands on the elusive UFC gold, he has maintained his spot in the top 10 of the
UFC rankings
. At age 40, Overeem is now making his one last run at a title shot.
"It was a very hectic time. A lot of moving parts. I was moving to the states. Fans everywhere. I couldn't walk around Vegas, I just got chased by fans. It was a crazy time. I'm actually happy it's not as hectic anymore. It's a little more calm and soothing."
A win over Volkov this weekend will bring Overeem very close to a title shot. The former kickboxer is aware that if he loses, there may not be a chance for him to make a comeback. Therefore, it goes without saying that he will give his best on Saturday.
ADVERTISEMENT
Article continues below this ad