All 35 Tattoos of Cody Garbrandt and the Meaning Behind Them
Published 05/19/2021, 8:15 AM EDT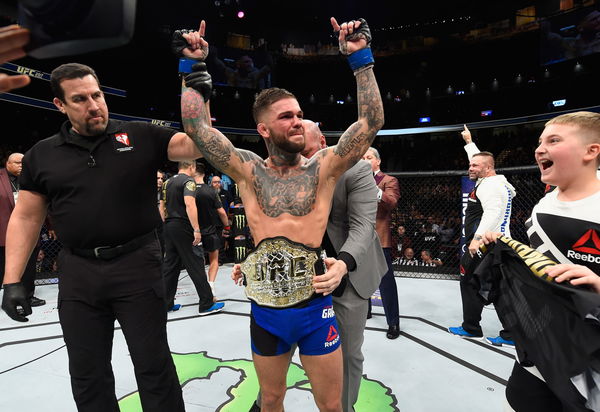 ---
---
Former UFC bantamweight champion, Cody Garbrandt, returns to action this weekend as he faces Rob Font in the main event of a UFC Fight Night card. 'No Love' is undoubtedly one of the most talented and entertaining fighters in the entire UFC roster. Fans can expect fireworks as 'Font' falls under the same category as Garbrandt as a fighter.
ADVERTISEMENT
Article continues below this ad
Garbrandt is inked all over his body. In fact, his body is a representation of complete artwork. 'No Love' adds an extra piece of tattoo to his body after every fight. He has as many as 35 tattoos on his skin.
"My uncle had these sketchbooks that he would constantly be drawing in. He tattooed my grandfather, my biological father, and my other uncle. They were all tattooed, so I thought it was the norm," he explained previously when asked about his love for tattoos.
ADVERTISEMENT
Article continues below this ad
"At the age of 18, I had at least 15 tattoos. I started working on my sleeve when I was in senior year, but I was very proportionate. I will like to do on one side, then I will do the other, and if I do the inside, ill do this inside too," he added.
A look at the chest tattoo of Cody Garbrandt
Garbrandt is a family man through and through. The tattoo over his chest is dedicated to his family. However, according to the former champion himself, he regrets the decision of having that piece inked over his body.
"I am a huge family man, and I huge part of my success has come from my family supporting me and always being there for me. There always a tattoo that a person regrets in life, and I think my chest did not turn well," he has said previously.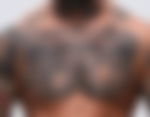 He has 'Family Over Everything' written over his chest. This signifies his devotion to his family. Also, 'No Love' happens to be a very spiritual man. The 'Lord Have Mercy' writing on his chest points to that fact.
There's also a sparrow tattoo on the right pec of Garbrandt. "This is like four or five people together, that together on my chest piece. We plan on doing some laser sessions to get it off and re shoot on something. But, hey it's there and I can't do anything about it," 'No Love' explained.
'No Love' has his whole chest covered with clouds. Those are just to make a comfortable room for the sparrow and angels on his chest.
Also, there's a 'Twin City' writing on Garbrandt's traps. He was born in Uhrichsville and lives in Dennison. The writing is symbolic of the little distance between the two places.
Garbrandt's arm tattoos
'No Love' is inked all over in both of his arms. He has a Japanese Koi Fish inked on his right arm, symbolizing focus and courage. Koi Fish fight till their death. Garbrandt likes to carry that power along with him. On his upper right arm, 'No Love' has Garbrandt tatted in the upper case.
Garbrandt also has a bunch of pink flowers along with pink leaves drawn on the inside of his right forearm.
He has a huge cross on his deltoids and triceps. This is for his strong faith in Christianity and reflects his religious views. 'No Love' has 'Live to Fight' and 'Fight to live' written on his right and left forearms, respectively. This is symbolic of his fighter spirit. He also has the word 'Family' inked on his right bicep. This is once again a sign of his love for family.
'No Love' has a 'Saint Michael Stomping the Devil' tattoo on his left hand. This tattoo is on the inner side of his left forearm. Saint Michaels acted as the opponent of Satan in the old Catholic writings. He used to help people in the hour of death. This is actually to signify dominance, strength, and courage.
There is also a tattoo of Jesus Christ on Cody's left deltoids. This is to show his religious character and his immense love and faith in Jesus as an individual. 'No Love' also has a rose tatted on his left elbow.
Garbrandt has 'RELENTLESS' tatted on bold on his left bicep. There is also a 922 tattoo on his left forearm as a sign of gratitude to his roots. There is also a huge sign of an angel with wings on the inner side of his left arm. This tattoo is a symbol of good luck and fortune.
Garbrandt also has 'True Love' tatted across his knuckles. Garbrandt has 'Only God Can Judge Me' written on the outer side of his left palm. There is also a green-colored grenade inked on the outer right palm of Garbrandt.
Abdominal tattoos of Cody Garbrandt
Garbrandt has a huge tattoo written 'Blessed' just above his navel. The former bantamweight champion considers himself lucky to be in the position that he is today. This is a sign of his gratitude towards life.
He has 'Dreamsville' inked just below his navel region. As mentioned prior, Garbrandt was born in Uhrichsville. The tattoo is actually a nickname of his birthplace.
Garbrandt's neck tattoos
'No Love' has a diamond tattooed on his throat. Also, there are ribbons tied at the sides of it. This piece contains the words 'Self Made'. This piece is extremely pleasing visually. Garbrandt thinks this shows that he himself is responsible for the position that he is in today.
The ribbons on the sides of his neck tattoo are to signify that there is no limit to prosperity in life. Only the sky is the limit according to 'No Love'. However, he acknowledged that his mother was not happy about him getting a tattoo on his neck.
Leg tattoos of Cody Garbrandt
Garbrandt has a multi-colored tribal tiger on the inner side of his right leg. This is once again a symbol of strength, dominance, and authority. Also, 'No Love' believes a tribal tiger can attract good energy towards a person.
In the front of his right leg, Cody has his nickname 'No Love' tatted on. He explained the reason behind his nickname as well. "The nickname no love was given to me by my uncle, he was my boxing trainer he was just taking me off to the gym, had my first fight at 14 so I was in there sparring some of the pro fighters he had and I was knocking them down and hassling them, this kid is a teenager he isn't showing you guys no love, so no love and that was my monitor and it has been my monitor ever since."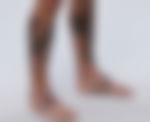 He also has a 'Cartoon Macho Man' tattoo on the extreme of his right leg to show his cartoonist character. There is also an 'A promise Kept' tattoo on the backside of Garbrandt's leg, with a UFC belt wrapped around it. This is to signify that he realized his championship aspirations in the UFC and reached the pinnacle of the sport.
The 922 tattoo on the back of his leg is for the aforementioned reason only. A pirate's head, along with the words 'No Love' is there on his calf to show his immense courage and fearless persona inside the Octagon.
There is an 'A' tattoo with a red and black outline on his right foot. And there is also an 'Ohio's finest' tattoo on his left foot. But Garbrandt has revealed he got that piece done while drinking and partying.
Garbrandt's back tattoos
The back is perhaps Cody's most decorated body part in terms of tattoos. On the back of his neck, Garbrandt has a heart tattooed along with the words VICTORY written inside it. He has revealed that when he was 14, he made an agreement with his mother to get this done given he wins a title or championship. And after winning a national title, he got it done.
Garbrandt also has a 9mm gun drawn on his lower back with the words 'No Love' written in bold across it. "I got 9 mm tattoo on my back, My Buddy Nick Duell, he was a pro fighter growing up, he was knocking everybody out like he was nick the savage duel, he's the guy I looked up to, he was on the same team, he had the same tattoo. The first time I actually pulled it out in a fight, it was Dom Cruz, I was walking back to the cage n I was like whoos!" he has explained about it.
His whole back is covered with a gladiator Esque tattoo giving him the lethal and dangerous look of a cage fighter. No doubt that perfectly suits a UFC champion like him.
This piece took 25 hours to be completed. However, the best part about the art is that the artist did it free of cost as this is an advertisement for his work whenever the Team Alpha Male member fights inside the Octagon.
ADVERTISEMENT
Article continues below this ad
Garbrandt is perhaps the most tatted fighter in the UFC. The inking on his body gives him the perfect look for his aggressive fighting style. He will have a worthy challenger in Font this weekend in front of him Given both fighters' explosive stand-up game, fans are in for a barn-burner. A win will certainly catapult the former kingpin to the title picture of the 135 lbs division.
What did you make of Cody's awesome tattoos? Which fighter do you think has the best ink in the entire UFC roster? Let us know.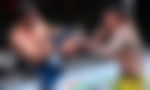 ADVERTISEMENT
Article continues below this ad