"All Nervous System Are F*ked Up" – Training for More Than 3 Decades, Joe Rogan Reveals the Real Toll of CTE on MMA Fighters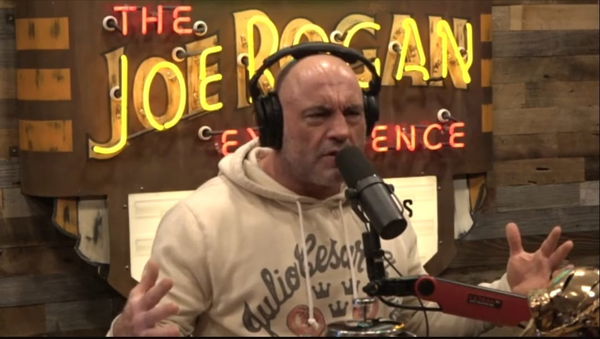 UFC commentator Joe Rogan recently expressed his concern over MMA fighters developing CTE. Rogan was talking to Bas Rutten in JRE. Both Rogan and Rutten are closely connected to the MMA world. They covered a wide range of topics about the sport. At one point, the topic of discussion centered on the issue of MMA fighters suffering from chronic traumatic encephalopathy. CTE is a degenerative brain condition associated with repetitive head trauma. It is commonly found in athletes involved in combat sports, including MMA.
Rogan and Rutten, being well-informed about its risks, emphasized the importance of understanding the long-term consequences of repeated head injuries in MMA. Rogan has taken training in MMA for more than three decades. CTE can often lead to memory loss, cognitive decline, mood swings, and behavioral changes. The UFC commentator talked about the helpless situation of fighters.
Joe Rogan and Bas Rutten talks about fighters developing CTE
ADVERTISEMENT
Article continues below this ad
Rogan and Rutten were talking on an episode of JRE, titled 'JRE MMA Show #139 with Bas Rutten. During the show, both fighters started to talk about how strikes received during MMA fights can cause permanent damage to the fighters. Rogan said, "That is the thing that happens to guys with CTE. Guys that have had lot of hits to their head. They start getting very depressed because their serotonin levels are all f*cked up. Their all nervous system are f*cked up. Their pituitary gland gets damaged and they say you even get that damaged even when you did not knocked out, just little jabs to the face."
MMA fighters are regularly subjected to strikes and blow to the head during training and fights. The impact of these repetitive head traumas can contribute to the development of CTE over time. Improved medical protocols, stricter regulations on weight cutting, and comprehensive post-fight medical assessments can help mitigate the damage caused by CTE. Fighters should be aware of the risks involved to protect their health.
One of the scariest injuries in MMA
ADVERTISEMENT
Article continues below this ad
The former Fear Factor host has discussed the most shocking injuries in MMA in JRE MMA Show #138 with Cory Sandhagen. Having been part of the UFC since 1997, Rogan has witnessed fighters endure severe injuries throughout his tenure. In the episode, Rogan delved into how some fighters have suffered permanent damage during a fight. The recovery process for MMA fighters after an injury can take months, and in some cases, even years.
Tragically, certain injuries haunt fighters for the rest of their lives. Rogan acknowledges the remarkable willpower displayed by each fighter. The 55-year-old also mentioned that one of the scariest injuries a fighter can suffer is a shin tear. He later said that the UFC superstar, Conor McGregor, faced a similar injury during his fight against Dustin Poirier at UFC 264. The Irishman broke his leg, and Rogan feels that he can never return to his former self after sich an injury.
ADVERTISEMENT
Article continues below this ad
What do you think about the subject of CTE in MMA? Do you think a shin tear is the scariest injury a fighter could encounter in the octagon? Let us know in the comments below.
WATCH THE STORY: List of Jon Jones UFC Returns That Will Shock You