All You Need to Know About Derrick Lewis and His Jail Incident
Published 03/21/2021, 12:33 PM EDT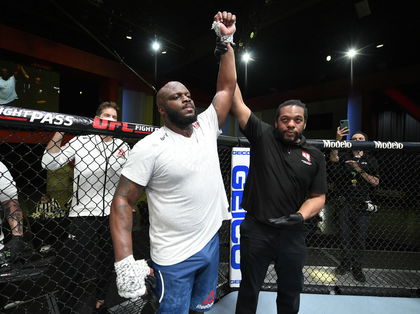 ---
---
Derrick Lewis is one of the most notable names in the Ultimate Fighting Championship. The American mixed martial artist is a powerhouse of talent and is currently ranked #2 in the UFC heavyweight rankings. He is a true veteran of the sport and has been able to prove it time and again through his performances.
ADVERTISEMENT
Article continues below this ad
He has been professionally fighting since 2010 and has been part of prestigious competitions like Bellator MMA and Legacy FC.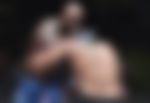 Lewis is one of the tough fighters of the game, which is evident from his hard punches and kicks. The American MMA fighter has accelerated up the ranking ladder in a brief span of time and is definitely ready to become the number 1 heavyweight fighter in the UFC.
ADVERTISEMENT
Article continues below this ad
Derrick Lewis: No holds barred
In one of his post-fight interviews, the fighter said, "I just gotta do No. 2, that's all. It's not really hurt from the kick. I just got to boo boo.
"It was more just trying not to s—t on myself. I'm holding my gas in and trying to breathe and at the same time I didn't want to shit on national TV.
"I just eased out a little fart. Tried to clear out my stomach a little bit. Once it did that, it was good. Then the second round it came back again, just started bubbling. I was like, 'I've got to end this fight.'"
Despite all the highlights, the skilled fighter has a dark past in which he was  sentenced to five years in prison.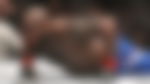 Why was Lewis in jail?
The 25-7-0, 1 NC record holder is undoubtedly one of the most beloved fighters in the UFC. But he has had a tough past. The New Orleans fighter was imprisoned as a result of a street fight.
Though the terrific fighter never opened up about his jail incident in details, he has shared how that tough situation helped him reach to where he is now. He spoke about how the situation was extremely difficult for him, financially.
In one of his interviews with Joe Rogan, he said, "I have been imprisoned and stuff like that. Did three-and-a-half years in prison for aggravated assault. I ended up getting probation for that and ended up playing that year at college- Kilgore College, violating the probation because I didn't have a job.
"I had to pay my fines and fees. And show up to my meetings, which no one wanted to help me. So I ended up getting violated from that… went to prison for a five-year sentence, but I got parole, three-and-a-half years"
'The Black Beast'- One of the best heavyweight fighters in the UFC
Lewis was raised by his single mother, along with six other siblings. Throughout his early life, he had to struggle with all kinds of hardships and struggles. The Black Beast expressed that the experience helped him stay out of trouble in the later years and molded him into the person that he is now.
ADVERTISEMENT
Article continues below this ad
"They gave me a lot of motivation. I know how easy it is to slip up. Go back into those situations because it was a street fight. That ended up bad for the guy. I was in against and I ended up having to serve almost five years…
"My life is unbelievable as it is and seeing that makes me so much more proud… I believe that I had to go through that situation to be a better person that I am today,"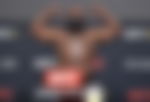 The American heavyweight fighter has a long way to go in his career. With all the talent that he brings to the table, he is not far behind from making history.
ADVERTISEMENT
Article continues below this ad