All You Need to Know About Jorge Masvidal's Kids
Published 04/24/2021, 9:47 AM EDT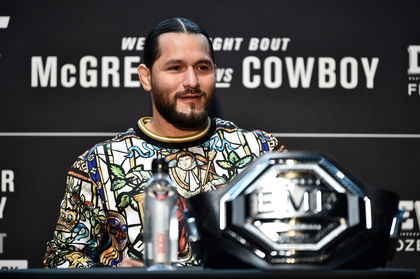 ---
---
When inside the Octagon, Jorge Masvidal is one of the most fierce competitors out there. Although, when it comes to his personal life, there is little to be known about the UFC's 'BMF' champion. Masvidal is one of the most popular MMA fighters around. 'Gamebred' is an MMA veteran who has been competing as a professional MMA fighter since 2003.
ADVERTISEMENT
Article continues below this ad
Masvidal is a global superstar today, and that is all thanks to his 3 knockout victories in 2019. While everyone is aware of Masvidal's in-ring talent and accomplishments, we know little about the fighter's family.
At present, we believe Jorge Masvidal to be unmarried. However, the UFC star was in a long-term relationship with Iman Kawa and has three children with her.
ADVERTISEMENT
Article continues below this ad
Iman Kawa and her relationship with Jorge Masvidal
Iman Kawa is the former girlfriend of Masvidal, and the sister of MMA agents Malki Kawa and Anthony Kawa. Malki Kawa is the CEO of First Round Management and represents some of the biggest names in sports. Kawa is allegedly the mother of Masvidal's three children.
Iman Kawa is a world-renowned chef and also has a YouTube channel of her own. Masvidal appeared on the very first episode of her show, 'Better Than Your Mother.'
How is Jorge Masvidal's relationship with his kids?
There is little to no information about Masvidal's kids. However, there have been occasions in which Masvidal has talked about his kids. After his loss to Usman at UFC 251 'Gamebred' talked about how he doesn't like losing in front of his kids and apologized to them.
"To my daughter and my son, I'm sorry. Gosh, I hate freaking losing in front of my kids; that's one thing that hurts me," Masvidal said.
Losing in front of your kids can be disheartening for anyone. The fighter may be the UFC's 'BMF', but when it comes to his children Masvidal seems just like everyone else.
ADVERTISEMENT
Article continues below this ad
Masvidal is now a well-known face, and he talked about how that is something her daughter does not like." I can't go to supermarkets. Me and my daughter, when we go to the movies, it's tough, we gotta be like doing. We've turned it into a game. She hates people coming up to me, she doesn't like it, that's one of the tougher parts."
ADVERTISEMENT
Article continues below this ad
While there is not much public information about the fighter's kids. We can see whenever the fighter talks about his kids, it's with great passion. For now, Masvidal is all set to challenge for the UFC welterweight title against Kamaru Usman at UFC 261.