All You Need to Know About Robbie Lawler's MMA Record
Published 09/05/2021, 9:52 AM EDT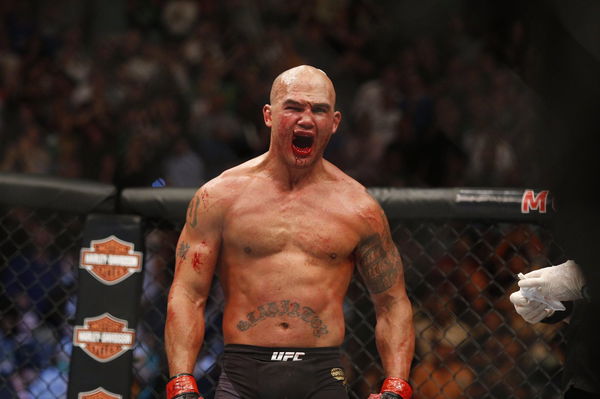 ---
---
Robbie Lawler is an MMA veteran and has competed in 44 professional fights since 2001. The fighter has competed in various MMA platforms around the globe, including the UFC, EliteXC, Strikeforce, and PRIDE. Recently the fighter has been a part of the UFC and is all set to compete against Nick Diaz at UFC 266.
ADVERTISEMENT
Article continues below this ad
'Ruthless' hasn't been in the best of forms recently and has lost his last 4 UFC fights. Therefore, the fighter will finally look to get back to winning ways and defeat Nick Diaz this September.
Robbie Lawler MMA and UFC debut
ADVERTISEMENT
Article continues below this ad
Lawler has been a professional MMA fighter for almost 2 decades now. The fighter made his MMA debut against John Reed at the Extreme Challenge 39 event. 'Ruthless' won that fight via a first-round TKO and followed that win with three more before joining the UFC.
In his first UFC fight, Lawler faced Aaron Riley at the UFC 37 event. Prior to this fight, Lawler had a 4-0 record in his MMA career and therefore was offered a contract for the UFC. Lawler performed admirably in that fight and defeated Riley via a unanimous decision.
Lawler went from strength to strength, winning his next 2 UFC fights via KO/TKO. 'Ruthless' suffered his first-ever MMA and UFC loss on April 25, 2003. The fighter faced Pete Spratt at the UFC 42 event and lost after he submitted due to a hip injury.
Watch This Story: Event Recap: Best Fights From UFC Vegas 36: Brunson vs. Till
The fighter came back strongly as he faced and defeated Chris Lytle in his next fight. However, 'Ruthless' could not continue his winning momentum as he lost to Nick Diaz and Evan Tanner in his following fights. Lawler then left the UFC and went on to compete on various other platforms.
Was Robbie Lawler ever a champion?
Just after leaving the UFC, Lawler competed at SuperBrawl in Hawaii, where he defeated Falaniko Vitale to win the SuperBrawl Middleweight championship. Lawler then competed in the KOTC: Xtreme Edge Event and defeated Jeremy Brown via a 1st round submission.
'Ruthless' then competed with Falaniko Vitale in a rematch, this time for the ICON Sport middleweight championship. Lawler won again, as he defeated Vitale via a 1st round KO to win the championship. The fighter lost his title in the very next fight, however, he became the ICON champion again in March 2007 as he defeated Frank Trigg via KO to win the title.
The fighter then joined EliteXC and, in his first fight, defeated Murilo Rus to win the EliteXC Middleweight championship. Lawler is also a former UFC welterweight champion as he defeated Johny Hendricks in an epic clash at UFC 181 to win the title.
Robbie Lawler's UFC career post losing the belt
'Ruthless' became the UFC champion in December  2014 and then went on to defend his title 2 times. Lawler ultimately lost his title in July 2016 at the UFC 201 event. The fighter lost the title to Tyron Woodley as he lost the fight via a 1st round KO.
Ever since that fight, Lawler's career went completely downhill, and he just managed to win 1 fight out of his next 5. 'Ruthless' lost to various fighters, including Ben Askren, Colby Covington, and most recently Neil Magny. Therefore, now as Lawler prepares to take on Diaz in the next fight. It would be very interesting to see whether Lawler can get back to winning ways.
Robbie Lawler's epic fights with Rory MacDonald and his next fight with Nick Diaz
Lawler has had a very long career, therefore it is inevitable that during that time the fighter was part of some incredible fights. One of Lawler's most iconic rivalries was with Rory MacDonald. Lawler and MacDonald faced each other twice and both times, the fights were exceptional to watch.
The first fight between Robbie Lawler and Macdonald took place at the UFC 167 event. Both fighters performed incredibly well and till the end, it was tough to decide who won the fight. In the end, though, Lawler was declared the victor via split decision. The pair faced each other again at UFC 189 and even though MacDonald performed admirably, 'Ruthless' won that fight as well via a TKO.
Watch This Story: 5 Young Boxers Who Died After Suffering Damage in the Ring
Towards the start of his career, Lawler had faced Nick Diaz at the UFC 47 event. Both fighters were trying to make their name back then, and it was Diaz who won the fight via a 2nd round KO. Now the two fighters are set to face each other at UFC 266, and Lawler would surely want to get the win over Diaz this time around.
What to expect from the next fight between Nick Diaz and Robbie Lawler?
Robbie Lawler and Nick Diaz are veterans of the sport and are very experienced fighters. Lawler and Diaz are both at similar ages as Lawler is 39 years old while Diaz is 38 years old. Therefore, this fight may be one of the last fights in their respective careers.
Talking about the actual fight, Lawler might be considered the slight favorite going into the fight. As even though the fighter has lost his last 4 UFC fights, he has still been competing regularly, which is bound to help him. Diaz, on the other hand, is returning after 6 years, having last competed at the UFC 183 event back in January 2015.
ADVERTISEMENT
Article continues below this ad
However, one can never count out Nick Diaz as the fighter has repeatedly shown his quality inside the Octagon. Whatever the result of this fight may be, one thing is sure that when these two fighters collide inside the Octagon, it is bound to be an entertaining affair.
Are you excited to watch Robbie Lawler face Nick Diaz at UFC 266? Let us know in the comments.
ADVERTISEMENT
Article continues below this ad